Hyundai Tucson: MP3 CD Mode / Basic Mode Screen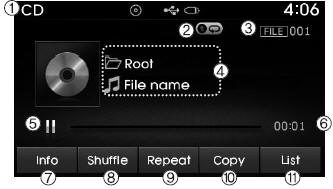 1. Mode Displays currently operating mode.
2. Operation State From Repeat/Random(Shuffle)/ Scan, displays the currently operating function.
3. File Index Displays the current file number.
4. File Info Displays information about the current file.
5. Play/Pause Changes the play/pause state.
6. Play Time Displays the current play time.
7. Info Shows detailed information about the current file.
8. Random(Shuffle) Turns the Random(Shuffle) feature on/off.
9. Repeat Turns the Repeat feature on/off.
10. Copy Copies the current file into My Music
11. List Moves to the list screen.
Playing/Pausing MP3 Files Once an MP3 disc is inserted the mode will automatically start and begin playing. While playing, press the button to pause and press button to play. ✽ NOTI ...
Other information:
Hyundai Tucson (LM) 2010-2015 Service Manual: Special Service Tools
Special Service Tools Tool (Number and name)IllustrationUseCrankshaft front oil seal installer(09231-2E000)Installation of the front oil seal 09231-2E000 (installer)Valve stem seal installer(09222-2E000)Installation of the valve stem oil sealValve spring compressor(09222-3K000)(09222-3K100)Remo ...
Hyundai Tucson (LM) 2010-2015 Owners Manual: Rear window defroster
The defroster heats the window to help remove frost, fog and thin ice from the rear window, while the engine is running. To activate the rear window defroster, press the rear window defroster button located in the center facia switch panel. The indicator on the rear window defroster butto ...