Hyundai Tucson: MP3 CD Mode / Basic Mode Screen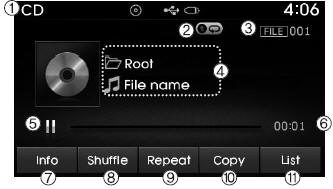 1. Mode Displays currently operating mode.
2. Operation State From Repeat/Random(Shuffle)/ Scan, displays the currently operating function.
3. File Index Displays the current file number.
4. File Info Displays information about the current file.
5. Play/Pause Changes the play/pause state.
6. Play Time Displays the current play time.
7. Info Shows detailed information about the current file.
8. Random(Shuffle) Turns the Random(Shuffle) feature on/off.
9. Repeat Turns the Repeat feature on/off.
10. Copy Copies the current file into My Music
11. List Moves to the list screen.
Playing/Pausing MP3 Files Once an MP3 disc is inserted the mode will automatically start and begin playing. While playing, press the button to pause and press button to play. ✽ NOTI ...
Other information:
Hyundai Tucson (LM) 2010-2015 Service Manual: Flow Diagram
Power Flow Chart P,NUD/BLR/B26/B35R/COD/COWCx x Direction of Rotation xLower & Reverse Brake (LR/B) Activation > Overdrive (O/D) Hub Lock > Mid & Rear P/C Lock xInput Shaft Rotation > Rear Sun Gear Rotation > Rear Inner Pinion Rotation (Reverse) > Rear Outer Pinion Rotation > R ...
Hyundai Tucson (LM) 2010-2015 Owners Manual: Manual adjustment
Forward and rearward adjustment To move the seat forward or rearward: 1. Pull up the seat slide adjustment lever and hold it. 2. Slide the seat to the position you desire. 3. Release the lever and make sure the seat is locked in place. Move forward and rearward without using the lever. If ...