Hyundai Tucson: Accessing your vehicle / Smart key precautions
The smart key will not work if any of the following occur:
The smart key is close to a radio transmitter such as a radio station or an airport which can interfere with normal operation of the transmitter.
The smart key is near a mobile two way radio system or a cellular phone.
Another vehicle's smart key is being operated close to your vehicle. When the smart key does not work correctly, open and close the door with the mechanical key. If you have a problem with the smart key, contact an authorized HYUNDAI dealer.
If the smart key is in close proximity to your mobile phone, the signal could be blocked by your mobile phones normal operational signals.
This is especially important when the phone is active such as making and receiving calls, text messaging, and/or sending/receiving emails.
Avoid placing the smart key and your mobile phone in the same pants or jacket pocket and always try to maintain an adequate distance between the two devices.
This device complies with Part 15 of the FCC rules.
Operation is subject to the following two conditions:
1. This device may not cause harmful interference, and
2. This device must accept any interference received, including interference that may cause undesired operation.
✽ NOTICE
Changes or modifications not expressly approved by the party responsible for compliance could void the user's authority to operate the device.
Battery replacement
If the Smart Key is not working properly, try replacing the battery with a new one.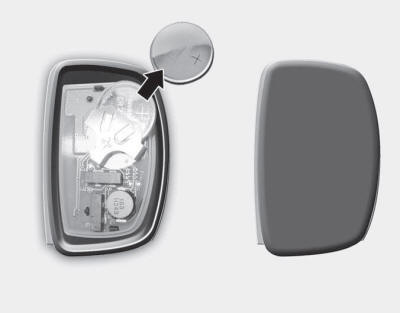 Battery Type: CR2032
To replace the battery:
1. Pry open the rear cover of the smart key.
2. Remove the old battery and insert the new battery. Make sure the battery position is correct.
3. Reinstall the rear cover of the smart key.
If you suspect your smart key might have sustained some damage, or you feel your smart key is not working correctly, contact an authorized HYUNDAI dealer.
✽ NOTICE

An inappropriately disposed battery can be harmful to the environment and human health. Dispose of the battery according to your local law(s) and regulation(s).