Hyundai Tucson: Automatic Transaxle Control System / Transaxle Oil Temperature Sensor Specifications
x Type: Negative Thermal Coefficient Type
| | |
| --- | --- |
| Temp.[(°C)°F] | Resistance (kx) |
| (-40)-40 | 48.1 |
| (-20)-4.0 | 15.6 |
| (0)32.0 | 5.88 |
| (20)68.0 | 2.51 |
| (40)104.0 | 1.11 |
| (60)140.0 | 0.61 |
| (80)176.0 | 0.32 |
| (100)212.0 | 0.18 |
| (120)248.0 | 0.10 |
| (140)284.0 | 0.06 |
| (150)302.0 | 0.03 |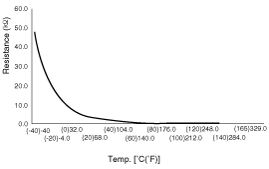 Description Transmission Oil Temperature Sensor monitors the automatic transmission fluid's temperature and conveys the readings to TCM. It is an NTC (Negative Thermal Coefficient) sensor whose ...
Other information:
Hyundai Tucson (LM) 2010-2015 Owners Manual: Voice Command List
Common Commands: These commands can be used in most operations. (However a few commands may not be available during certain operations) FM/AM radio commands: available during FM, AM radio operation Satellite radio commands: Commands that can be used while listening to Satellite R ...
Hyundai Tucson (LM) 2010-2015 Owners Manual: Normal maintenance schedule
The following maintenance services must be performed to ensure good emission control and performance. Keep receipts for all vehicle emission services to protect your warranty. Where both mileage and time are shown, the frequency of service is determined by whichever occurs first. *1 : If TOP ...
© 2010-2020 www.htmanual.net