Hyundai Tucson: Audio system / Aux, USB and iPod® port (if equipped)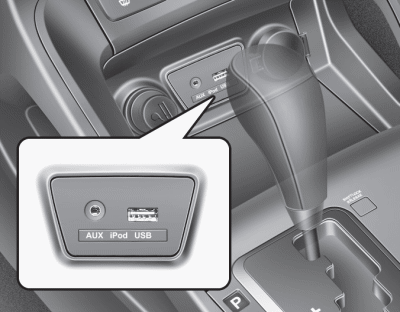 If your vehicle has an aux and/or USB(universal serial bus) port or iPod port, you can use an aux port to connect audio devices and the USB port to plug in a USB device.
Both ports are used together with the accessory iPod cable to connect an iPod.
✽ NOTICE
When using a portable audio device connected to the power outlet, noise may occur during playback. If this happens, use the power source of the portable audio device.
The steering wheel may incorporate audio control buttons. These buttons are installed to promote safe driving. CAUTION Do not operate audio remote control buttons simultaneously. MODE (1) Pres ...
AM and FM radio signals are broadcast from transmitter towers located around your city. They are intercepted by the radio antenna on your vehicle. This signal is then processed by the radio and s ...