Hyundai Tucson: Interior features / Cigarette lighter (if equipped)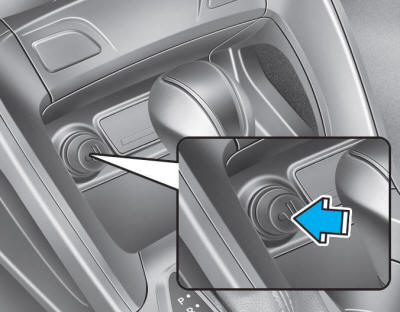 To use the cigarette lighter, the ignition switch must be in the ACC position or the ON position.
To open the cover, press the cover and it will slowly open. Then push the cigarette lighter all the way into its socket. When the element has heated, the lighter will pop out to the "ready" position.
If it is necessary to replace the cigarette lighter, use only a genuine HYUNDAI replacement or its approved equivalent.
CAUTION
Do not hold down the cigarette lighter while it is heating. It may overheat and damage the lighter or the heating element. Do not use the cigarette lighter for accessories (shavers, handheld vacuums, and coffee pots, etc.). The use of plug-in accessories may damage the socket or cause electrical failure. Use the power outlets for this purpose.
To open the ashtray cover: Press the cover and it will slowly open. To clean the ashtray: The plastic receptacle should be removed by lifting the plastic ashtray receptacle upward and pulling ...
Other information:
Hyundai Tucson (LM) 2010-2015 Service Manual: Battery Sensor Description and Operation
Description Vehicles have many control units that use more electricity. These units control their own system based on information from diverse sensors. It is important to have a stable power supply as there diverse sensors giving a variety of information. Battery sensor (A) is mounted o ...
Hyundai Tucson (LM) 2010-2015 Owners Manual: Washer fluid
Checking the washer fluid level Check the fluid level in the washer fluid reservoir and add fluid if necessary. Plain water may be used if washer fluid is not available. However, use washer solvent with antifreeze characteristics in cold climates to prevent freezing. CAUTION To prevent se ...