Hyundai Tucson: Interior features / Cigarette lighter (if equipped)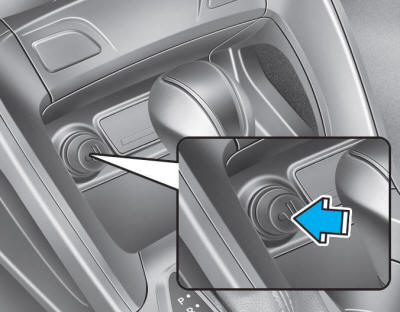 To use the cigarette lighter, the ignition switch must be in the ACC position or the ON position.
To open the cover, press the cover and it will slowly open. Then push the cigarette lighter all the way into its socket. When the element has heated, the lighter will pop out to the "ready" position.
If it is necessary to replace the cigarette lighter, use only a genuine HYUNDAI replacement or its approved equivalent.
CAUTION
Do not hold down the cigarette lighter while it is heating. It may overheat and damage the lighter or the heating element. Do not use the cigarette lighter for accessories (shavers, handheld vacuums, and coffee pots, etc.). The use of plug-in accessories may damage the socket or cause electrical failure. Use the power outlets for this purpose.
To open the ashtray cover: Press the cover and it will slowly open. To clean the ashtray: The plastic receptacle should be removed by lifting the plastic ashtray receptacle upward and pulling ...
Other information:
Hyundai Tucson (LM) 2010-2015 Owners Manual: Key ignition switch
WARNING NEVER turn the ignition switch to the LOCK or ACC position while the vehicle is in motion except in an emergency. This will result in the engine turning off and loss of power assist for the steering and brake systems. This may lead to loss of directional control and braking functi ...
Hyundai Tucson (LM) 2010-2015 Owners Manual: Instrument panel fuse replacement
1. Turn the engine off. 2. Turn all other switches OFF. 3. Open the fuse panel cover. 4. Refer to the label on the inside of the fuse panel cover to locate the suspected fuse location 5. Pull the suspected fuse straight out. Use the removal tool provided in the engine compartment fus ...