Hyundai Tucson: Special driving conditions / Driving at night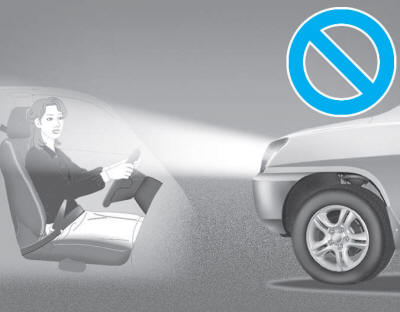 Night driving presents more hazards than driving in the daylight. Here are some important tips to remember:
Slow down and keep more distance between you and other vehicles, as it may be more difficult to see at night, especially in areas where there may not be any street lights.
Adjust your mirrors to reduce the glare from other driver's headlights.
Keep your headlights clean and properly aimed. Dirty or improperly aimed headlights will make it much more difficult to see at night.
Avoid staring directly at the headlights of oncoming vehicles. You could be temporarily blinded, and it will take several seconds for your eyes to readjust to the darkness.
Avoid braking or gear changing in corners, especially when roads are wet. Ideally, corners should always be taken under gentle acceleration. ...
Rain and wet roads can make driving dangerous. Here are a few things to consider when driving in the rain or on slick pavement: Slow down and allow extra following distance. A heavy rainfall ...
Other information:
Hyundai Tucson (LM) 2010-2015 Owners Manual: Mode selection
The mode selection button controls the direction of the air flow through the ventilation system. Air can be directed to the floor, dashboard outlets, or windshield. Six symbols are used to represent the direction and flow of ventilation: MAX A/C, Face, Bi-Level, Floor, Floor- Defrost and ...
Hyundai Tucson (LM) 2010-2015 Owners Manual: Air bag warning light
This warning light will illuminate for approximately 6 seconds each time you place the ignition switch in the ON position. This light also comes on when the Supplemental Restraint System (SRS) is not working properly. If the AIR BAG warning light does not come on, or continuously remains on ...
© 2010-2019 www.htmanual.net