Hyundai Tucson: Ignition switch / Engine Start/Stop button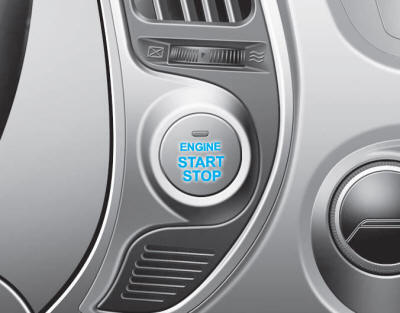 Whenever the front door is opened, the Engine Start/Stop button will illuminate and will go off 30 seconds after the door is closed.
WARNING
To turn the engine off in an emergency:
Press and hold the Engine Start/Stop button for more than two seconds OR Rapidly press and release the Engine Start/Stop button three times (within three seconds).
If the vehicle is still moving, you can restart the engine without depressing the brake pedal by pressing the Engine Start/Stop button with the shift lever in the N (Neutral) position.
WARNING
NEVER press the Engine Start/Stop button while the vehicle is in motion except in an emergency. This will result in the engine turning off and loss of power assist for the steering and brake systems. This may lead to loss of directional control and braking function, which could cause an accident.
Before leaving the driver's seat, always make sure the shift lever is in the P (Park) position, set the parking brake, press the Engine Start/Stop button to the OFF position, and take the Smart Key with you. Unexpected vehicle movement may occur if these precautions are not followed.
WARNING Always wear appropriate shoes when operating your vehicle. Unsuitable shoes, such as high heels, ski boots, sandals, flipflops, etc., may interfere with your ability to use the brake, acc ...