Hyundai Tucson: Interior features / Floor mat anchor(s)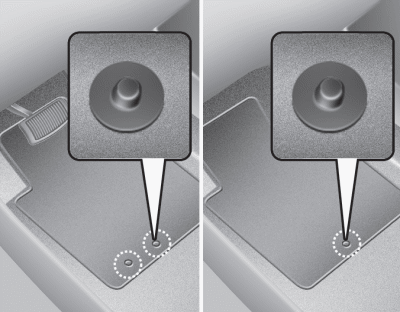 ALWAYS use the Floor Mat Anchors to attach the front floor mats to the vehicle. The anchors on the front floor carpet keep the floor mats from sliding forward.
Your vehicle was manufactured with driver's side floor mat anchors designed to securely hold the floor mat in place. To avoid any interference with pedal operation, HYUNDAI recommends only the HYUNDAI floor mat designed for use in your vehicle be installed.
WARNING
If a floor mat is the wrong size or not properly installed, it can interfere with the accelerator or the brake pedal while driving. Take the following precautions when installing any floor mat:
ALWAYS ensure the floor mats are securely attached to the vehicle's floor mat anchor(s) and do not interfere with the accelerator or brake pedal before driving the vehicle.
Use only the HYUNDAI floor mats designed for use in your vehicle.
Do not stack floor mats on top of one another (e.g. all-weather rubber mat on top of a carpeted floor mat).
Only a single floor mat should be installed in each position.
Do not place anything on top of the driver side floor mat.
Do not place the floor mats bottom- side up or upside down.
© 2010-2023 www.htmanual.net