Hyundai Tucson: Storage compartments / Glove box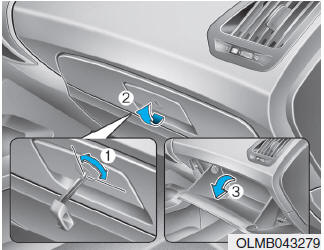 The glove box can be locked and unlocked with a key. (1)
To open the glove box:
Pull the handle (2) and the glove box will automatically open (3).
WARNING
ALWAYS close the glove box door after use. An open glove box door can cause serious injury to the passenger in an accident, even if the passenger is wearing a seat belt.
To open the center console storage: Pull up the lever. ...
To open the sunglass holder: Press the cover and the holder will slowly open. Place your sunglasses in the compartment door with the lenses facing out. To close the sunglass holder: Push back ...
Other information:
Hyundai Tucson (LM) 2010-2015 Service Manual: Heated Oxygen Sensor (HO2S) Specifications
Specification HO2S [Bank 1/Sensor 1] (Linear type) ItemSpecificationHeater Resistance (x)2.4 ~ 4.0 [20°C(68°F)] HO2S [Bank 1/Sensor 2] (Binary type) A/F Ratio (x)Output Voltage(V)RICH0.6 ~ 1.0LEAN0 ~ 0.4 ItemSpecificationHeater Resistance (x)Approx. 9.0 [20°C(68°F)] ...
Hyundai Tucson (LM) 2010-2015 Owners Manual: Brake fluid
Checking the brake fluid level Check the fluid level in the reservoir periodically. The fluid level should be between MAX and MIN marks on the side of the reservoir. Before removing the reservoir cap and adding brake fluid, clean the area around the reservoir cap thoroughly to prevent brake ...