Hyundai Tucson: Convenient features of your vehicle / Instrument cluster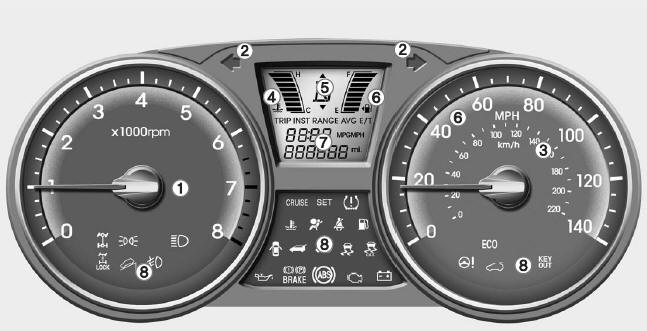 1. Tachometer
2. Turn signal indicators
3. Speedometer
4. Engine temperature gauge
5. Shift position indicator
6. Fuel gauge
7. Odometer/Trip computer
8.Warning and indicator lights
This system helps to protect your vehicle and valuables. The horn will sound and the hazard warning lights will blink continuously if any of the following occurs: - A door is opened without using t ...
Adjusting Instrument Cluster Illumination When the vehicle's parking lights or headlights are on, press the illumination control button to adjust the brightness of the instrument panel illumina ...
Other information:
Hyundai Tucson (LM) 2010-2015 Service Manual: Specifications
Specifications ItemSpecificationPower sourceDC 14.4V (-) groundFrequency range / Channel spaceFM : 87.5 ~ 108.0 MHz / 100 KHzAM : 531 ~ 1602 KHz / 9 KHzTuning typePLL SYNTHESIZED TUNINGImpedance2 ohm x 4Antenna80 pF 75 ohmDark currentMAX 2mA (Head unit only)S/NFM : MIN 50 dBAM : MIN 40 dB GP ...
Hyundai Tucson (LM) 2010-2015 Service Manual: Flow Diagram
Power Flow Chart P,NUD/BLR/B26/B35R/COD/COWCx x Direction of Rotation xLower & Reverse Brake (LR/B) Activation > Overdrive (O/D) Hub Lock > Mid & Rear P/C Lock xInput Shaft Rotation > Rear Sun Gear Rotation > Rear Inner Pinion Rotation (Reverse) > Rear Outer Pinion Rotation > R ...
© 2010-2020 www.htmanual.net