Hyundai Tucson: Engine Control System / Intake Air Temperature Sensor (IATS) Schematic Diagrams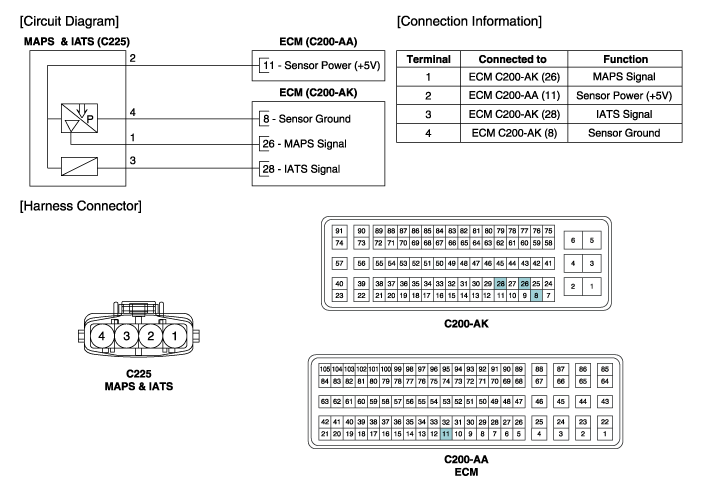 Specification TemperatureResistance (kx)°C°F-40-4040.93 ~ 48.35-20-413.89 ~ 16.030325.38 ~ 6.0910503.48 ~ 3.9020682.31 ~ 2.57401041.08 ~ 1.21501221.56 ~ 1.74601400.54 ~ 0.62801760.29 ~ 0.34 ...
Inspection 1. Turn the ignition switch OFF. 2. Disconnect the IATS connector. 3. Measure resistance between the IATS terminals 3 and 4. 4. Check that the resistance is within the speci ...
Other information:
Hyundai Tucson (LM) 2010-2015 Owners Manual: Starting the engine
WARNING Always wear appropriate shoes when operating your vehicle. Unsuitable shoes, such as high heels, ski boots, sandals, flipflops, etc., may interfere with your ability to use the brake, accelerator and clutch pedals.. ✽ NOTICE The engine will start by pressing the Engine Start/Stop ...
Hyundai Tucson (LM) 2010-2015 Owners Manual: Features of your vehicle
Satellite radio reception You may experience difficulties in receiving XM satellite™ radio signals in the following situations. If you are driving in a tunnel or a covered parking area. If you are driving beneath the top level of a multi-level freeway. If you are driving under a bridg ...
© 2010-2019 www.htmanual.net