Hyundai Tucson: Your vehicle at a glance / Interior overview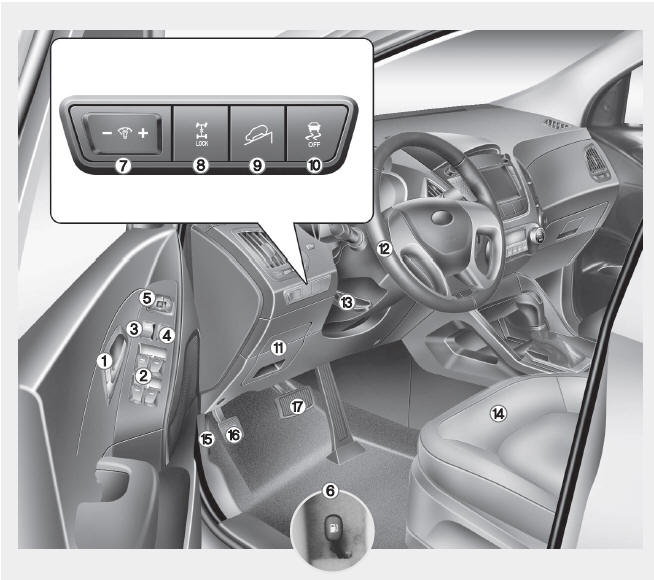 1. Door lock/unlock button
2. Power window switches
3. Central door lock switch
4. Power window lock switch
5. Outside rearview mirror control switch
6. Fuel filler door release lever
7. Instrument panel illumination control switch
8. AWD Lock button
9. DBC button
10. ESC OFF button
11. Fuse box
12. Steering wheel
13. Steering wheel tilt control
14. Seat
15. Hood release lever
16. Parking brake
17. Brake pedal
1. Panoramic sunroof 2. Front windshield wiper blades 3. Outside rearview mirror 4. Door locks 5. Headlight 6. Front fog light 7. Hood 8. Tires and wheels 1. Antenna 2. Defroster 3. Fuel ...
1. Light control/Turn signals 2. Steering wheel audio controls 3. Bluetooth phone controls 4. Instrument cluster 5. Horn 6. Driver's front air bag 7. Wiper/Washer 8. Auto cruise controls 9 ...
Other information:
Hyundai Tucson (LM) 2010-2015 Service Manual: In car sensor Description and Operation
Description 1. In-car air temperature sensor is located at the center facia lower panel. 2. The sensor contains a thermistor which measures the temperature of the inside. The signal decided by the resistance value which changes in accordance with perceived inside temperature, is delive ...
Hyundai Tucson (LM) 2010-2015 Owners Manual: Brake fluid
Checking the brake fluid level Check the fluid level in the reservoir periodically. The fluid level should be between MAX and MIN marks on the side of the reservoir. Before removing the reservoir cap and adding brake fluid, clean the area around the reservoir cap thoroughly to prevent brake ...
© 2010-2019 www.htmanual.net