Hyundai Tucson: iPod® Mode / iPod® Mode Menu
Within this mode, you will have access to the Random(Shuffle), Repeat and List features.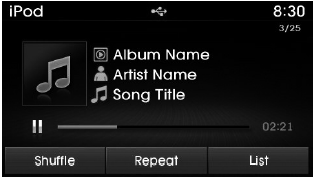 Random(Shuffle)
Press the
button to play songs in random(Shuffle) order.
Each time the button is pressed, the feature changes in order of Random(Shuffle) Album➟Random (Shuffle) All➟Off.
Random(Shuffle) Album : Shuffle Album plays album in Random(Shuffle) order.
Random(Shuffle) All : Plays all songs in Random(Shuffle) order.
Repeat
Press the
button to repeat the current song. Press the button again to turn the repeat feature off.
Repeat : Repeats the current song
List
Press the

button to display the Category Menu.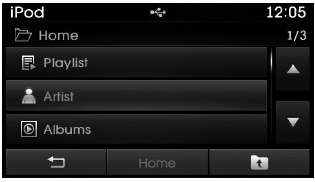 Turn the

TUNE knob left/right to search for the desired category.
Once you find the desired category, press the

TUNE knob to select and play.
Playing/Pausing iPod® Songs Once an iPod® is connected, the mode will automatically start and begin playing an iPod® song. While playing, press the button to pause and press button to pla ...
Other information:
Hyundai Tucson (LM) 2010-2015 Owners Manual: Tire terminology and definitions
Air Pressure The amount of air inside the tire pressing outward on the tire. Air pressure is expressed in pounds per square inch (psi) or kilopascal (kPa). Accessory Weight This means the combined weight of optional accessories. Some examples of optional accessories are automatic transmission ...
Hyundai Tucson (LM) 2010-2015 Owners Manual: Eco Coach
• What is Eco Coach? Every 2.5 minutes, Eco Coach compares your fuel economy against the government tested average (EPA) or other similar Hyundai models (community), based on your preference. Each month, or after every tank fill up, Eco Coach rates your extended average and gives yo ...