Hyundai Tucson: iPod® Mode / iPod® Mode Menu
Within this mode, you will have access to the Random(Shuffle), Repeat and List features.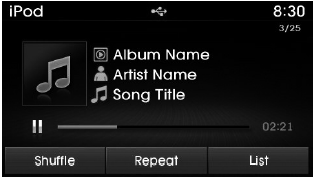 Random(Shuffle)
Press the
button to play songs in random(Shuffle) order.
Each time the button is pressed, the feature changes in order of Random(Shuffle) Album➟Random (Shuffle) All➟Off.
Random(Shuffle) Album : Shuffle Album plays album in Random(Shuffle) order.
Random(Shuffle) All : Plays all songs in Random(Shuffle) order.
Repeat
Press the
button to repeat the current song. Press the button again to turn the repeat feature off.
Repeat : Repeats the current song
List
Press the

button to display the Category Menu.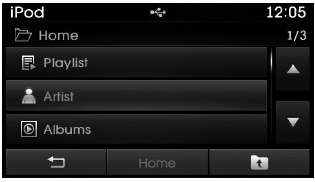 Turn the

TUNE knob left/right to search for the desired category.
Once you find the desired category, press the

TUNE knob to select and play.
Playing/Pausing iPod® Songs Once an iPod® is connected, the mode will automatically start and begin playing an iPod® song. While playing, press the button to pause and press button to pla ...
Other information:
Hyundai Tucson (LM) 2010-2015 Service Manual: Troubleshooting
Troubleshooting SymptomSuspect AreaRemedyWater leaks from panoramaroof Deteriorated roof lid weatherstripReplaceExcessive roof lid-to-body clearance andImproperly fitted weatherstripAdjustWind noise around sunroofLoose or deformed deflector, gapsIn body workRetighten adjust or replaceNoise hear ...
Hyundai Tucson (LM) 2010-2015 Service Manual: Propeller Shaft Repair procedures
Removal 1. After making a match mark on the flange yoke and transaxle companion, remove the propeller shaft mounting bolts (A). Tightening torque: 49.0 ~ 68.6 N.m (5.0 ~ 7.0 kgf.m, 36.1 ~ 50.6 lb-ft) 2. Remove the center bearing bracket (A) mounting bolts (B-2ea). Tightening to ...