Hyundai Tucson: iPod® Mode / iPod® Mode Menu
Within this mode, you will have access to the Random(Shuffle), Repeat and List features.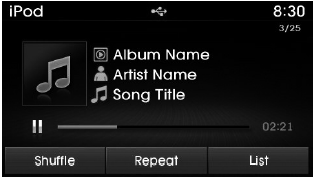 Random(Shuffle)
Press the
button to play songs in random(Shuffle) order.
Each time the button is pressed, the feature changes in order of Random(Shuffle) Album➟Random (Shuffle) All➟Off.
Random(Shuffle) Album : Shuffle Album plays album in Random(Shuffle) order.
Random(Shuffle) All : Plays all songs in Random(Shuffle) order.
Repeat
Press the
button to repeat the current song. Press the button again to turn the repeat feature off.
Repeat : Repeats the current song
List
Press the

button to display the Category Menu.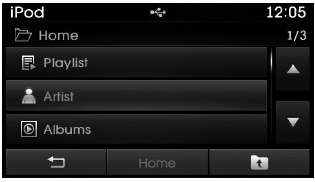 Turn the

TUNE knob left/right to search for the desired category.
Once you find the desired category, press the

TUNE knob to select and play.
Playing/Pausing iPod® Songs Once an iPod® is connected, the mode will automatically start and begin playing an iPod® song. While playing, press the button to pause and press button to pla ...
Other information:
Hyundai Tucson (LM) 2010-2015 Service Manual: Anchor Pretensioner Repair procedures
Removal 1. Disconnect the battery negative cable, and wait for at least three minutes before beginning work. 2. To remove the seat belt anchor pretensioner (C), keep on pushing the lock pins (A) as arrow direction. And then remove the seat belt after pushing the lock pin (B). 3. Rem ...
Hyundai Tucson (LM) 2010-2015 Owners Manual: Mode selection
The mode selection button controls the direction of the air flow through the ventilation system. Air can be directed to the floor, dashboard outlets, or windshield. Six symbols are used to represent the direction and flow of ventilation: MAX A/C, Face, Bi-Level, Floor, Floor- Defrost and ...