Hyundai Tucson: Engine Control System / Knock Sensor (KS) Description and Operation
Knocking is a phenomenon characterized by undesirable vibration and noise and can cause engine damage. Knock Sensor (KS) is installed on the cylinder block and senses engine knocking.
When knocking occurs, the vibration from the cylinder block is applied as pressure to the piezoelectric element. When a knock occurs, the sensor produces voltage signal. The ECM retards the ignition timing when knocking occurs. If the knocking disappears after retarding the ignition timing, the ECM will advance the ignition timing. This sequential control can improve engine power, torque and fuel economy.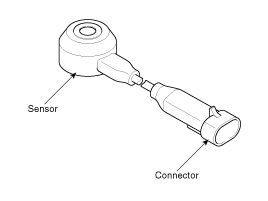 Inspection 1. Check the signal waveform of the CMPS and CKPS using the GDS. Specification: Refer to "Wave Form" Removal • DON'T remove the camshaft pos ...
Specification ItemSpecificationCapacitance (pF)850 ~ 1,150 ...
Other information:
Hyundai Tucson (LM) 2010-2015 Service Manual: Oil Cooler Repair procedures
Inspection Radiator Cap Testing 1. Remove the radiator cap, wet its seal with engine coolant, and then install it on a pressure tester. 2. Apply a pressure of 93.16 ~ 122.58 kPa (0.95 ~ 1.25 kgf/cmx, 13.51 ~ 17.78 psi). 3. Check for a drop in pressure. 4. If the pressure drops, re ...
Hyundai Tucson (LM) 2010-2015 Owners Manual: Reclining seatback
Sitting in a reclined position when the vehicle is in motion can be dangerous. Even when buckled up, the protection of your restraint system (seat belts and air bags) is greatly reduced by reclining your seatback. WARNING NEVER ride with a reclined seatback when the vehicle is moving. Riding w ...
© 2010-2021 www.htmanual.net