Hyundai Tucson: Engine Control System / Knock Sensor (KS) Description and Operation
Knocking is a phenomenon characterized by undesirable vibration and noise and can cause engine damage. Knock Sensor (KS) is installed on the cylinder block and senses engine knocking.
When knocking occurs, the vibration from the cylinder block is applied as pressure to the piezoelectric element. When a knock occurs, the sensor produces voltage signal. The ECM retards the ignition timing when knocking occurs. If the knocking disappears after retarding the ignition timing, the ECM will advance the ignition timing. This sequential control can improve engine power, torque and fuel economy.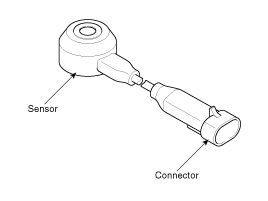 Inspection 1. Check the signal waveform of the CMPS and CKPS using the GDS. Specification: Refer to "Wave Form" Removal • DON'T remove the camshaft pos ...
Specification ItemSpecificationCapacitance (pF)850 ~ 1,150 ...
Other information:
Hyundai Tucson (LM) 2010-2015 Owners Manual: Instrument panel fuse replacement
1. Turn the engine off. 2. Turn all other switches OFF. 3. Open the fuse panel cover. 4. Refer to the label on the inside of the fuse panel cover to locate the suspected fuse location 5. Pull the suspected fuse straight out. Use the removal tool provided in the engine compartment fus ...
Hyundai Tucson (LM) 2010-2015 Owners Manual: Eco Coach
• What is Eco Coach? Every 2.5 minutes, Eco Coach compares your fuel economy against the government tested average (EPA) or other similar Hyundai models (community), based on your preference. Each month, or after every tank fill up, Eco Coach rates your extended average and gives yo ...
© 2010-2020 www.htmanual.net