Hyundai Tucson: Engine Control System / Knock Sensor (KS) Description and Operation
Knocking is a phenomenon characterized by undesirable vibration and noise and can cause engine damage. Knock Sensor (KS) is installed on the cylinder block and senses engine knocking.
When knocking occurs, the vibration from the cylinder block is applied as pressure to the piezoelectric element. When a knock occurs, the sensor produces voltage signal. The ECM retards the ignition timing when knocking occurs. If the knocking disappears after retarding the ignition timing, the ECM will advance the ignition timing. This sequential control can improve engine power, torque and fuel economy.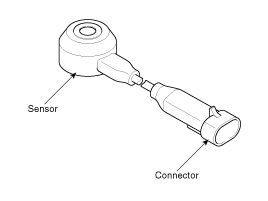 Inspection 1. Check the signal waveform of the CMPS and CKPS using the GDS. Specification: Refer to "Wave Form" Removal • DON'T remove the camshaft pos ...
Specification ItemSpecificationCapacitance (pF)850 ~ 1,150 ...
Other information:
Hyundai Tucson (LM) 2010-2015 Service Manual: Specifications
Specifications Front Suspension ItemSpecificationSuspension typeMacPherson StrutShock absorberTypeGasH.P.D [High Perpormence Damper]Coil springFree Height [I.D. color]326.6 mm (12.64 in.) [Brown -Yellow]310.4 mm (12.60 in.) [Brown -Red]324.2 mm (11.59 in.) [Brown - Violet]331.4 mm (11.90 in.) ...
Hyundai Tucson (LM) 2010-2015 Owners Manual: Smart key precautions
The smart key will not work if any of the following occur: The smart key is close to a radio transmitter such as a radio station or an airport which can interfere with normal operation of the transmitter. The smart key is near a mobile two way radio system or a cellular phone. Another veh ...
© 2010-2022 www.htmanual.net