Hyundai Tucson: Smart key / Mechanical key
If the Smart Key does not operate normally, you can lock or unlock the door by using the mechanical key.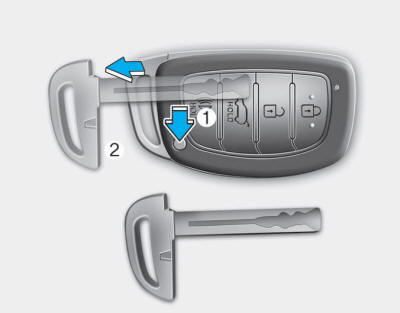 Press and hold the release button (1) and remove the mechanical key (2). Insert the mechanical key in to the key hole on the door.
To reinstall the mechanical key, put the key into the hole and push it until a click sound is heard.
You can start the engine without inserting the key. CAUTION To prevent damaging the smart key: Keep the smart key away from water or any liquid. If the smart key is inoperative due to exposur ...
A maximum of two smart keys can be registered to a single vehicle. If you happen to lose your smart key, you should immediately take the vehicle and remaining key to your authorized HYUNDAI dealer ...
Other information:
Hyundai Tucson (LM) 2010-2015 Service Manual: Troubleshooting
Troubleshooting SymptomProbable causeRemedyplay in steeringLoose yoke plugRetightenLoose steering gear mounting boltsRetightenLoose or worn tie rod endRetighten or replace as necessarySteering wheel operation is not smooth (Insufficient power assist)V-belt slippageReadjustDamaged V-beltReplace ...
Hyundai Tucson (LM) 2010-2015 Service Manual: Inhibitor Switch Description and Operation
Description Inhibiter Switch contains two contact points. One of these points connects the engine startup when the lever is in the N or P position and turns on the reverse lights. The other contact point monitors the lever's position (PRND) and is used to control gear setting signals. ...