Hyundai Tucson: Panoramaroof / Schematic Diagrams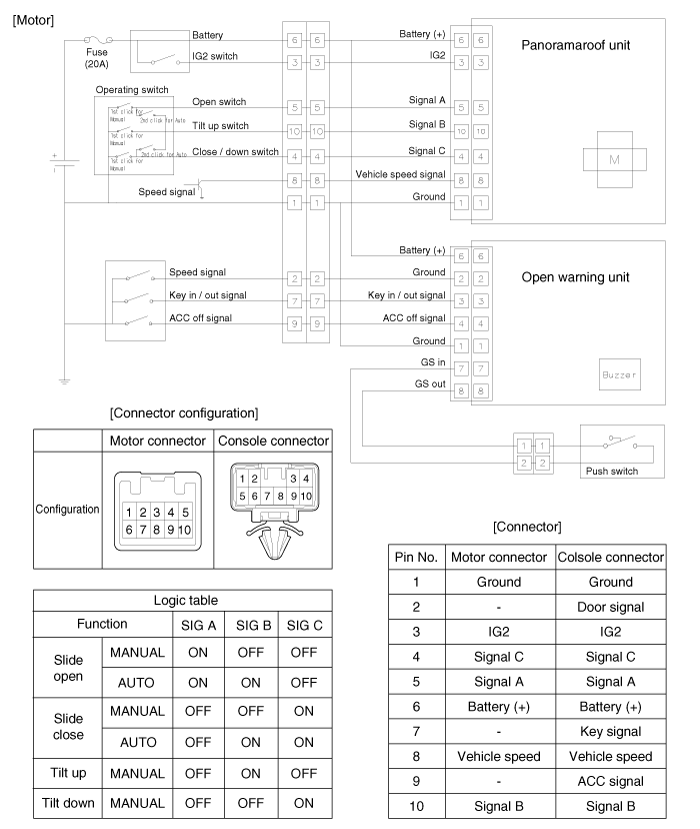 Component Location 1. Panoramaroof2. Panoramaroof switch3. Panoramaroof motor & controller Components 1. Panoramaroof frame assembly2. Panoramaroof impact cross member assembly3. Panora ...
Inspection 1. Disconnect the negative (-) battery terminal. 2. Remove the overhead console lamp assembly. (Refer to the BD group - "Roof trim") 3. Check for continuity between the termina ...
Other information:
Hyundai Tucson (LM) 2010-2015 Owners Manual: Erasing HomeLink® buttons
Individual buttons cannot be erased. However, to erase all three programmed buttons: 1. Press and hold the two outer HomeLink® buttons until the indicator light begins to flash-after 20 seconds. 2. Release both buttons. Do not hold for longer than 30 seconds. The Integrated HomeLink® Wireless ...
Hyundai Tucson (LM) 2010-2015 Service Manual: Troubleshooting
Troubleshooting Ignition System SymptomSuspect AreaRemedyEngine will not start or is hard to start (Cranks OK) Ignition lock switchInspect ignition lock switch, or replace as requiredIgnition coilInspect ignition coil, or replace as requiredSpark plugsInspect spark plugs, or replace as requi ...
© 2010-2019 www.htmanual.net