Hyundai Tucson: Interior features / Sunvisor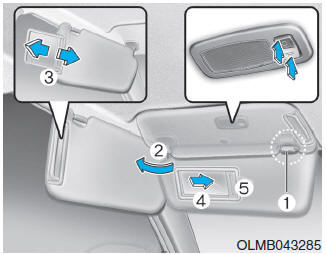 To use a sunvisor, pull it downward. To use a sunvisor for a side window, pull it downward, unsnap it from the bracket (1) and swing it to the side (2).
To use the vanity mirror, pull down the sunvisor and slide the mirror cover (4).
Adjust the sunvisor forward or backward (3) as needed. Use the ticket holder (5) to hold tickets.
✽ NOTICE
Always have the vanity mirror lamp switch in the OFF position when the vanity mirror lamp is not in use.
WARNING
For your safety, do not block your view when using the sunvisor.
CAUTION
Always use the sunvisor extension, after swinging the sunvisor to the side.
WARNING Avoid abrupt starting and braking when the cup holder is in use to prevent spilling your drink. If hot liquid spills, you could be burned. Such a burn to the driver could cause los ...
The power outlets are designed to provide power for mobile telephones or other devices designed to operate with vehicle electrical systems. The devices should draw less than 10 amps with the eng ...
Other information:
Hyundai Tucson (LM) 2010-2015 Owners Manual: If the engine will not start
If the engine doesn't turn over or turns over slowly Be sure the shift lever is in N (Neutral) or P (Park). The engine starts only when the shift lever is in N (Neutral) or P (Park). Check the battery connections to be sure they are clean and tight. Turn on the interior light. If the ligh ...
Hyundai Tucson (LM) 2010-2015 Service Manual: Schematic Diagrams
ESC connector input/output Connector TerminalSpecificationRemarkNoDescription29IGNITION1(+)High level of wake up voltage :5.0V < V < 16.0VLow level of wake up voltage V < 2.4VMax. current : I < 50mAx25POS. BATTERY 1.(SOLENOID)Over voltage range : 17.0 ± 0.5V Operating voltage range ...