Hyundai Tucson: Interior features / Cup holder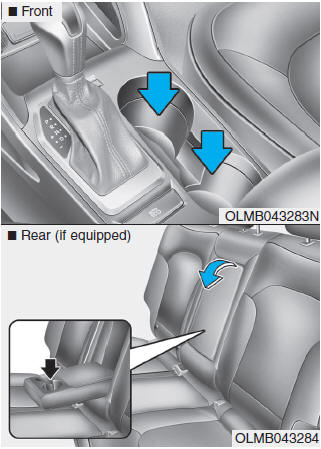 WARNING
Avoid abrupt starting and braking when the cup holder is in use to prevent spilling your drink. If hot liquid spills, you could be burned. Such a burn to the driver could cause loss of vehicle control resulting in an accident.
Only use soft cups in the cup holders. Hard objects can injure you in an accident.
To open the ashtray cover: Press the cover and it will slowly open. To clean the ashtray: The plastic receptacle should be removed by lifting the plastic ashtray receptacle upward and pulling ...
To use a sunvisor, pull it downward. To use a sunvisor for a side window, pull it downward, unsnap it from the bracket (1) and swing it to the side (2). To use the vanity mirror, pull down the su ...
Other information:
Hyundai Tucson (LM) 2010-2015 Owners Manual: 3-point rear center seat belt
To fasten the rear center seat belt: 1. Extract the metal tab from the hole of the belt assembly cover and slowly pull the metal tab out from the retractor. 2. Insert the metal tab (A) into the buckle (C). There will be an audible "click" when the tab locks into the buckle. Make sure t ...
Hyundai Tucson (LM) 2010-2015 Service Manual: Alternator Specifications
Specification Alternator ItemSpecificationRated voltage13.5V, 120ASpeed in use 1,000 ~ 18,000 rpmVoltage regulatorIC Regulator built-in typeRegulator Setting VoltageExternal mode Refer to below graphInternal mode14.55 ± 0.3V Temperature GradientExternal mode0 ± 3 mV / °CInternal mode-3.5 ± ...
© 2010-2019 www.htmanual.net