Hyundai Tucson: Charging System / Battery Sensor Description and Operation
Vehicles have many control units that use more electricity. These units control their own system based on information from diverse sensors. It is important to have a stable power supply as there diverse sensors giving a variety of information. Battery sensor (A) is mounted on battery (-) terminal. It transmits battery voltage, current, temperature information to ECM. ECM controls generating voltage by duty cycle based on these signals.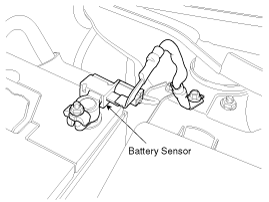 Removal 1. Disconnect the battery negative (-) cable. 2. Disconnect the battery sensor connector (A). 3. Remove the battery negative (-) cable after removing the bolt (B). Installation ...
Other information:
Hyundai Tucson (LM) 2010-2015 Owners Manual: Radial-ply tires
Radial-ply tires provide improved tread life, road hazard resistance and smoother high speed ride. The radial- ply tires used on this vehicle are of belted construction, and are selected to complement the ride and handling characteristics of your vehicle. Radial-ply tires have the same load car ...
Hyundai Tucson (LM) 2010-2015 Owners Manual: Tire rotation
To equalize tread wear, HYUNDAI recommends that the tires be rotated every 7,500 miles (12,000 km) or sooner if irregular wear develops. During rotation, check the tires for correct balance. When rotating tires, check for uneven wear and damage. Abnormal wear is usually caused by incorrect ti ...
© 2010-2021 www.htmanual.net