Hyundai Tucson: Automatic Transaxle Control System / Underdrive Brake Control Solenoid Valve(UD/B_VFS) Description and Operation
Underdrive brake control solenoid valve(UD/B_VFS) is attached to the valve body. This variable force solenoid valve directly controls the hydraulic pressure inside the underdrive brake.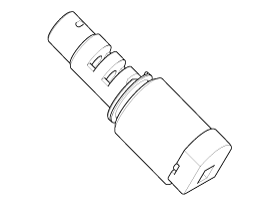 Inspection 1. Turn ignition switch OFF. 2. Disconnect the solenoid valve connector. 3. Measure resistance between sensor signal terminal and sensor ground terminal. 4. Check that the ...
Specifications Direct control VFS[UD/B] x Control type : Normal high type Control Pressure kpa (kgf/cmx, psi)500.14 ~ 9.81(5.1 ~ 0.1, 72.54 ~ 1.42)Current value(mA)50 ~ 850 Internal resis ...
Other information:
Hyundai Tucson (LM) 2010-2015 Service Manual: Troubleshooting
Troubleshooting SymptomSuspect AreaRemedyWater leaks from panoramaroof Deteriorated roof lid weatherstripReplaceExcessive roof lid-to-body clearance andImproperly fitted weatherstripAdjustWind noise around sunroofLoose or deformed deflector, gapsIn body workRetighten adjust or replaceNoise hear ...
Hyundai Tucson (LM) 2010-2015 Owners Manual: Mechanical key
Turn the key toward the rear of the vehicle to unlock and toward the front of the vehicle to lock. If you lock the door with a key, all vehicle doors will lock automatically. From the driver's door, turn the key to the right once to unlock the driver's door and once more within 4 second ...
© 2010-2020 www.htmanual.net