Hyundai Tucson: Audio / Audio Unit Components and Components Location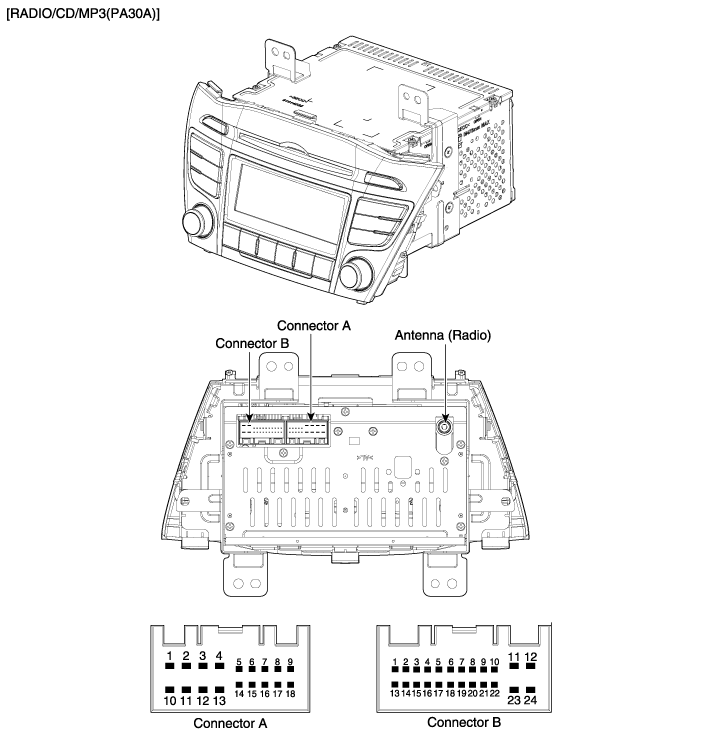 Connector Pin Information
No.




Connector A




Connector B




1




Rear left speaker (+)




CAN High




2




Front left speaker (+)




-




3




Front right speaker (+)




-




4




Rear right speaker (+)




Steering wheel remote




5




-




-




6




-




USB D (+)




7




Ignition




USB/iPod VDD




8




Illumination (+)




AUX R IN




9




Detent




AUX GND




10




Rear left speaker (-)




Mic (+) B/T




11




Front left speaker (-)




ACC




12




Front right speaker (-)




B+




13




Rear right speaker (-)




CAN Low




14




-




-




15




-




-




16




-




Speed




17




Illumination (-)




Remote GND




18




Remote antenna




USB D (-)




19




x




USB/iPod GND




20




AUX DETECT




21




AUX L IN




22




Mic (-) B/T




23




-




24




Power GND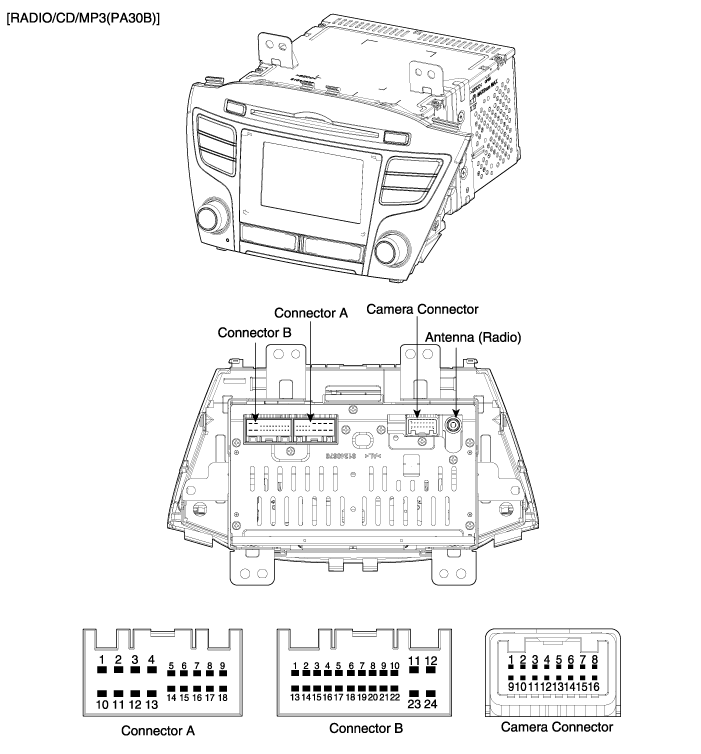 Connector Pin Information
No.




Connector A




Connector B




Connector C




1




Rear left speaker (+)




-




-




2




Front left speaker (+)




-




-




3




Front right speaker (+)




-




Camera ground




4




Rear right speaker (+)




Steering wheel remote




Camera video input




5




-




-




-




6




-




USB D (+)




-




7




Ignition




USB/iPod VDD




-




8




Illumination (+)




AUX R IN




-




9




Detent




AUX GND




-




10




Rear left speaker (-)




Mic (+) B/T




Camera battery (+)




11




Front left speaker (-)




ACC




Parking ground




12




Front right speaker (-)




B+




P detector




13




Rear right speaker (-)




-




-




14




-




-




-




15




-




Autolight




-




16




-




Speed




-




17




Illumination (-)




Remote GND




x




18




Remote antenna




USB D (-)




19




x




USB/iPod GND




20




AUX DETECT




21




AUX L IN




22




Mic (-) B/T




23




-




24




Power GND



Component Location 1. Audio unit2. Tweeter speaker3. Antenna cable connector4. Roof antenna (Radio)5. Front door speaker6. Rear door speaker7. Sub woofer speaker8. Antenna feeder cable9. External ...
Removal 1. Disconnect the negative (-) battery terminal. 2. Remove the hazard lamp switch assembly (A). Take care not to damage and scratch the hazard lamp switch assemb ...
Other information:
Hyundai Tucson (LM) 2010-2015 Owners Manual: Headlight escort function
If the key is removed from the ignition switch or placed in the ACC position or the LOCK/OFF position with the headlights ON, the headlights (and/or parking lights) remain on for about 5 minutes. However, if the driver's door is opened and closed, the headlights are turned off after 15 secon ...
Hyundai Tucson (LM) 2010-2015 Owners Manual: Mechanical key
Turn the key toward the rear of the vehicle to unlock and toward the front of the vehicle to lock. If you lock the door with a key, all vehicle doors will lock automatically. From the driver's door, turn the key to the right once to unlock the driver's door and once more within 4 second ...
© 2010-2023 www.htmanual.net