Hyundai Tucson: Audio / Components and Components Location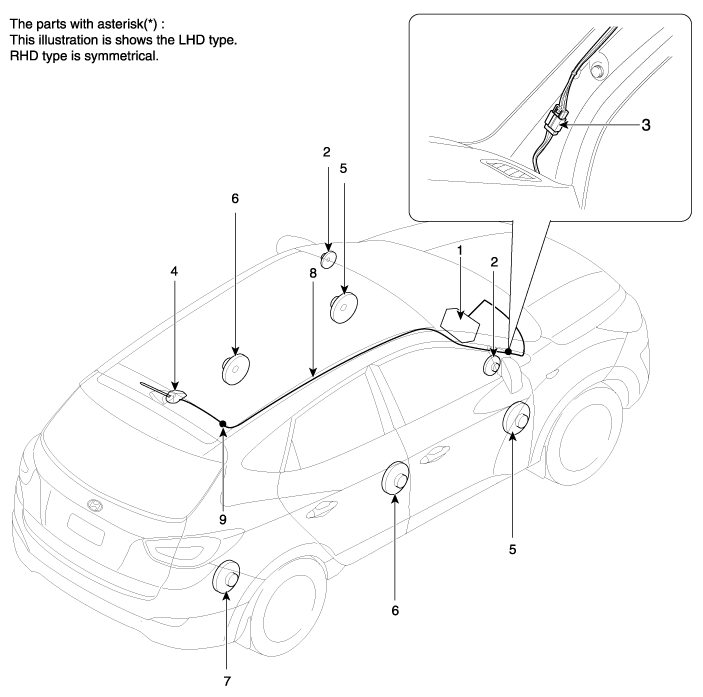 1. Audio unit




2. Tweeter speaker




3. Antenna cable connector




4. Roof antenna (Radio)




5. Front door speaker





6. Rear door speaker




7. Sub woofer speaker




8. Antenna feeder cable




9. External amp



Specifications Audio ItemSpecificationModelRADIO/CD/MP3 (PA30A)RADIO/CDC/MP3 (PA30B)Power supplyDC 14.4VLoad impedance4x X 4Antenna80PF 75xTuning typePLL SYNTHESIZED TUNINGFrequency range / Channe ...
Components Connector Pin Information No.Connector AConnector B1Rear left speaker (+)CAN High2Front left speaker (+)-3Front right speaker (+)-4Rear right speaker (+)Steering wheel remote5--6-USB D ...
Other information:
Hyundai Tucson (LM) 2010-2015 Owners Manual: Headrest
The vehicle's front and rear seats have adjustable headrests.The headrests provide comfort for passengers, but more importantly they are designed to help protect passengers from whiplash and other neck and spinal injuries during an accident, especially in a rear impact collision. WARNING T ...
Hyundai Tucson (LM) 2010-2015 Owners Manual: Brake fluid
Checking the brake fluid level Check the fluid level in the reservoir periodically. The fluid level should be between MAX and MIN marks on the side of the reservoir. Before removing the reservoir cap and adding brake fluid, clean the area around the reservoir cap thoroughly to prevent brake ...
© 2010-2019 www.htmanual.net