Hyundai Tucson: Wipers and washers / AUTO control (if equipped)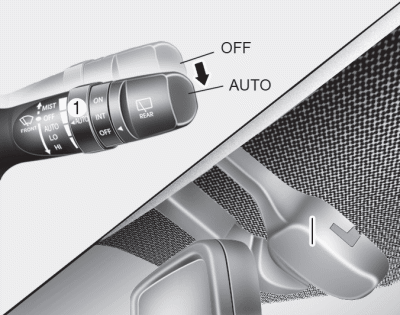 The rain sensor located on the upper end of the windshield glass senses the amount of rainfall and controls the wiping cycle for the proper interval.
The more it rains, the faster the wiper operates. When the rain stops, the wiper stops. To vary the speed setting, turn the speed control knob (1). If the wiper switch is set in AUTO mode when ignition switch is in the ON position, the wiper will operate once to perform a self-check of the system. Set the wiper to OFF position when the wiper is not in use.
WARNING
To avoid personal injury from the windshield wipers, when the engine is running and the windshield wiper switch is placed in the AUTO mode:
Do not touch the upper end of the windshield glass facing the rain sensor.
Do not wipe the upper end of the windshield glass with a damp or wet cloth.
Do not put pressure on the windshield glass.
CAUTION
When washing the vehicle, set the wiper switch to the OFF position to stop the auto wiper operation.The wiper may operate and be damaged if the switch is set in the AUTO mode while washing the vehicle.
Do not remove the sensor cover located on the upper end of the passenger side windshield glass. Damage to system parts could occur.
Operates as follows when the ignition switch is turned ON. MIST : For a single wipe, push the lever upward and release. The wipers will operate continuously if the lever is pushed upward and held ...
In the OFF position, pull the lever gently toward you to spray washer fluid on the windshield and to run the wipers 1- 3 cycles. The spray and wiper operation will continue until you release th ...