Hyundai Tucson: Audio CD Mode / Basic Mode Screen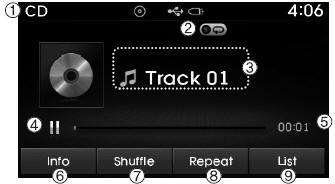 1. Mode Displays currently operating mode.
2. Operation State From Repeat/Random(Shuffle)/ Scan, displays the currently operating function.
3. Track Info Displays information about the current track.
4. Play/Pause Changes the play/pause state.
5. Play Time Displays the current play time.
6. Info Shows detailed information about the current track.
7. Random(Shuffle) Turns the Random(Shuffle) feature on/off.
8. Repeat Turns the Repeat feature on/off.
9. List Moves to the list screen.
Playing/Pausing CD Tracks Once an audio CD is inserted, the mode will automatically start and begin playing. While playing, press the button to pause and press button to play. â ...
Other information:
Hyundai Tucson (LM) 2010-2015 Service Manual: Description and Operation
Operation Function Of Safety Power Window When all door (Front, Rear) power window auto-up switch is operated, safety function is activated. 1. Safety function condition When detect the force of 100N during the window rising, window is reversed. 2. Length of window reversing (except holdi ...
Hyundai Tucson (LM) 2010-2015 Owners Manual: Mechanical key
Turn the key toward the rear of the vehicle to unlock and toward the front of the vehicle to lock. If you lock the door with a key, all vehicle doors will lock automatically. From the driver's door, turn the key to the right once to unlock the driver's door and once more within 4 second ...