Hyundai Tucson: Audio CD Mode / Basic Mode Screen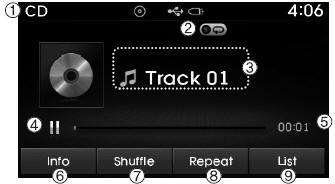 1. Mode Displays currently operating mode.
2. Operation State From Repeat/Random(Shuffle)/ Scan, displays the currently operating function.
3. Track Info Displays information about the current track.
4. Play/Pause Changes the play/pause state.
5. Play Time Displays the current play time.
6. Info Shows detailed information about the current track.
7. Random(Shuffle) Turns the Random(Shuffle) feature on/off.
8. Repeat Turns the Repeat feature on/off.
9. List Moves to the list screen.
Playing/Pausing CD Tracks Once an audio CD is inserted, the mode will automatically start and begin playing. While playing, press the button to pause and press button to play. â ...
Other information:
Hyundai Tucson (LM) 2010-2015 Service Manual: Specifications
Specifications ItemSpecificationsTransmission typeA6MF1Engine modelGasoline 2.0 GDITorque converter type3-element, 1-stage, 2-phase typeTorque converter sizeO236 mm (9.2913 in.)Oil pump systemParachoidFriction elementsClutch: 2EABrake: 3EAOWC : 1EAPlanetary gear 3EAGear ration1st4.1622nd2. ...
Hyundai Tucson (LM) 2010-2015 Service Manual: Description and Operation
Description The charging system included a battery, an alternator with a built-in regulator, and the charging indicator light and wire. The Alternator has eight built-in diodes, each rectifying AC current to DC current. Therefore, DC current appears at alternator "B" terminal. In addition, the ...