Hyundai Tucson: Audio CD Mode / Using Audio CD Mode
Playing/Pausing CD Tracks
Once an audio CD is inserted, the mode will automatically start and begin playing.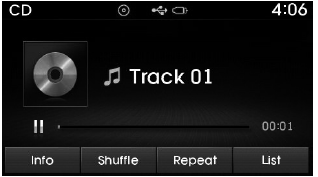 While playing, press the
button to pause and press

button to play.
✽ NOTICE
Only genuine audio CDs are supported. Other discs may result in recognition failure (e.g. copy CDR, CDs with labels)
The artist and title information are displayed on the screen if track information is included within the audio CD.
Changing Tracks
Press the
key to move to the previous or next track.
✽ NOTICE
Pressing the key after the track has been playing for 2 seconds will start the current track from the beginning.
Pressing the key before the track has been playing for 1 seconds will start the previous track.
Selecting from the List
Turn the

TUNE knob left/right to search for the desired track.
Once you find the desired track, press the
TUNE knob to start playing.
Rewinding / Fast-forwarding Tracks
While playing, press and hold the
key (over 0.8 seconds) to rewind or fast-forward the current track.
Scan
Press the

key to play the first 10 seconds of each file.
1. Mode Displays currently operating mode. 2. Operation State From Repeat/Random(Shuffle)/ Scan, displays the currently operating function. 3. Track Info Displays information about the current t ...
Within this mode, you will have access to the Info, Random (Shuffle), Repeat and List features. Info Press the button to display details about the current disc. Random(Shuffle) ...
Other information:
Hyundai Tucson (LM) 2010-2015 Owners Manual: TPMS Malfunction Indicator
The TPMS Malfunction Indicator comes on after it blinks for approximately one minute when there is a problem with the Tire Pressure Monitoring System. Have the system checked by an authorized HYUNDAI dealer as soon as possible to determine the cause of the problem. ✽ NOTICE The TPMS Malfu ...
Hyundai Tucson (LM) 2010-2015 Service Manual: Water pump Troubleshooting
Troubleshooting Water Pump SymptomsPossible CausesRemedyCoolant leakage • From the bleed hole of the water pump Visually check • Check leaks after about ten-minute warming up. • If coolant still leaks, replace a water pump. • If leakage stops, reuse the water pump (D ...