Hyundai Tucson: General Information / Specifications
| | |
| --- | --- |
| Item | Specification |
| Primary Coil Resistance (x) | 0.75 ± 15% [20°C (68°F)] |
| Secondary Coil Resistance (kx) | 5.9 ± 15% [20°C (68°F)] |
Item




Specification




Type




SILZKR7B11




Gap




1.0 ~ 1.1




(0.0394 ~ 0.0433)



| | |
| --- | --- |
| Item | Specification |
| Capacitance (uF) | 0.47 [1KHz] |
| Insulation resistance (Mx) | 1,000 [DC 500 V/1 Min] |
Item




Specification




Rated voltage




13.5V, 120A




Speed in use




1,000 ~ 18,000 rpm




Voltage regulator




IC Regulator built-in type




Regulator Setting Voltage




External mode




Refer to below graph




Internal mode




14.55 ± 0.3V




Temperature Gradient




External mode




0 ± 3 mV / °Cx




Internal mode




-3.5 ± 2mV / °C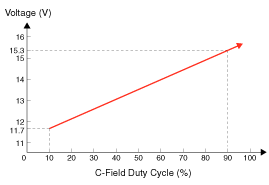 x Regulator Setting Voltage (External mode)
| | |
| --- | --- |
| Item | Specification |
| Model type | CMF68L-BCI |
| Capacity [20HR / 5HR] (AH) | 68 / 54 |
| Cold Cranking Amperage (A) | 600 (SAE) / 480 (EN) |
| Reserve Capacity (Min) | 113 |
| | |
| --- | --- |
| • | |
| | |
| --- | --- |
| • | Cold Cranking Ampere (CCA): Cold Cranking Amps is a rating used in the battery industry to define a battery's ability to start an engine in cold temperatures. |
| | |
| --- | --- |
| - | The rating is the number of amps a new, fully charged battery can deliver at -18 °C(-0.4 °F) for 30 seconds, while maintaining a voltage of at least 7.2 volts for a 12 volt battery. |
| | |
| --- | --- |
| - | The higher the CCA rating, the greater the starting power of the battery. |
| | |
| --- | --- |
| • | RESERVE CAPACITY (RC) : Reserve Capacity is a battery industry rating, defining a battery's ability to power a vehicle with an inoperative alternator or fan belt. |
| | |
| --- | --- |
| - | The rating is the number of minutes a battery at 26.7 °C(80 °F) can be discharged at 25 amps and maintain a voltage of 10.5 volts for a 12 volt battery. |
| | |
| --- | --- |
| - | The higher the reserve rating, the longer your vehicle can operate should your alternator or fan belt fail. |
Item




Specification




Rated voltage




12 V, 1.2 kW




The number of pinion teeth




13




Performance




[No-load, 11 V]




Ampere




Max. 70 A




Speed




Min. 2,400 rpm



| | | | |
| --- | --- | --- | --- |
| Item | N.m | kgf.m | lb-ft |
| Ignition coil installation bolt | 9.8 ~ 11.8 | 1.0 ~ 1.2 | 7.2 ~ 8.7 |
| Spark plug installation | 14.7 ~ 24.5 | 1.5 ~ 2.5 | 10.9 ~ 18.1 |
| Condenser bracket installation bolt | 9.8 ~ 11.8 | 1.0 ~ 1.2 | 7.2 ~ 8.7 |
| Alternator installation bolt [12 mm (0.47 in.)] | 21.6 ~ 32.4 | 2.2 ~ 3.3 | 15.9 ~ 23.9 |
| Alternator installation bolt [14 mm (0.55 in.)] | 29.4 ~ 41.2 | 3.0 ~ 4.2 | 21.7 ~ 30.4 |
| Battery (+) terminal tightening nut | 7.8 ~ 9.8 | 0.8 ~ 1.0 | 5.2 ~ 8.7 |
| Battery (-) terminal tightening nut | 3.9 ~ 5.9 | 0.4 ~ 0.6 | 2.9 ~ 4.3 |
| Battery mounting bracket bolt | 8.8 ~ 13.7 | 0.9 ~ 1.4 | 6.5 ~ 10.1 |
| Battery tray installation bolt | 8.8 ~ 13.7 | 0.9 ~ 1.4 | 6.5 ~ 10.1 |
| Battery sensor cable installation bolt | 21.6 ~ 32.4 | 2.2 ~ 3.3 | 15.9 ~ 23.9 |
| Starter installation bolt | 49.0 ~ 63.7 | 5.0 ~ 6.5 | 36.2 ~ 47.0 |
Troubleshooting Ignition System SymptomSuspect AreaRemedyEngine will not start or is hard to start (Cranks OK) Ignition lock switchInspect ignition lock switch, or replace as requiredIgnition ...
Other information:
Hyundai Tucson (LM) 2010-2015 Owners Manual: Basic Mode Screen
1. Mode Displays currently operating mode. 2. Operation State From Repeat/Random(Shuffle), displays the currently operating function. 3. Song Index Displays the current song/total number of songs. 4. Song Info Displays information about the current song. 5. Play/Pause Changes the play/pause ...
Hyundai Tucson (LM) 2010-2015 Owners Manual: XM Radio
Using XM satellite™ Radio Your vehicle is equipped with a 3 month complimentary period of XM Satellite™ Radio. XM provides access to over 130 channels of music, information, and entertainment programming. Seek Press the key Shortly pressing the key: select previous or next c ...
© 2010-2019 www.htmanual.net