Hyundai Tucson: General Information / Specifications
| | |
| --- | --- |
| Item | Specification |
| Primary Coil Resistance (x) | 0.75 ± 15% [20°C (68°F)] |
| Secondary Coil Resistance (kx) | 5.9 ± 15% [20°C (68°F)] |
Item




Specification




Type




SILZKR7B11




Gap




1.0 ~ 1.1




(0.0394 ~ 0.0433)



| | |
| --- | --- |
| Item | Specification |
| Capacitance (uF) | 0.47 [1KHz] |
| Insulation resistance (Mx) | 1,000 [DC 500 V/1 Min] |
Item




Specification




Rated voltage




13.5V, 120A




Speed in use




1,000 ~ 18,000 rpm




Voltage regulator




IC Regulator built-in type




Regulator Setting Voltage




External mode




Refer to below graph




Internal mode




14.55 ± 0.3V




Temperature Gradient




External mode




0 ± 3 mV / °Cx




Internal mode




-3.5 ± 2mV / °C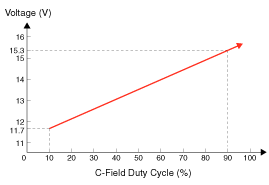 x Regulator Setting Voltage (External mode)
| | |
| --- | --- |
| Item | Specification |
| Model type | CMF68L-BCI |
| Capacity [20HR / 5HR] (AH) | 68 / 54 |
| Cold Cranking Amperage (A) | 600 (SAE) / 480 (EN) |
| Reserve Capacity (Min) | 113 |
| | |
| --- | --- |
| • | |
| | |
| --- | --- |
| • | Cold Cranking Ampere (CCA): Cold Cranking Amps is a rating used in the battery industry to define a battery's ability to start an engine in cold temperatures. |
| | |
| --- | --- |
| - | The rating is the number of amps a new, fully charged battery can deliver at -18 °C(-0.4 °F) for 30 seconds, while maintaining a voltage of at least 7.2 volts for a 12 volt battery. |
| | |
| --- | --- |
| - | The higher the CCA rating, the greater the starting power of the battery. |
| | |
| --- | --- |
| • | RESERVE CAPACITY (RC) : Reserve Capacity is a battery industry rating, defining a battery's ability to power a vehicle with an inoperative alternator or fan belt. |
| | |
| --- | --- |
| - | The rating is the number of minutes a battery at 26.7 °C(80 °F) can be discharged at 25 amps and maintain a voltage of 10.5 volts for a 12 volt battery. |
| | |
| --- | --- |
| - | The higher the reserve rating, the longer your vehicle can operate should your alternator or fan belt fail. |
Item




Specification




Rated voltage




12 V, 1.2 kW




The number of pinion teeth




13




Performance




[No-load, 11 V]




Ampere




Max. 70 A




Speed




Min. 2,400 rpm



| | | | |
| --- | --- | --- | --- |
| Item | N.m | kgf.m | lb-ft |
| Ignition coil installation bolt | 9.8 ~ 11.8 | 1.0 ~ 1.2 | 7.2 ~ 8.7 |
| Spark plug installation | 14.7 ~ 24.5 | 1.5 ~ 2.5 | 10.9 ~ 18.1 |
| Condenser bracket installation bolt | 9.8 ~ 11.8 | 1.0 ~ 1.2 | 7.2 ~ 8.7 |
| Alternator installation bolt [12 mm (0.47 in.)] | 21.6 ~ 32.4 | 2.2 ~ 3.3 | 15.9 ~ 23.9 |
| Alternator installation bolt [14 mm (0.55 in.)] | 29.4 ~ 41.2 | 3.0 ~ 4.2 | 21.7 ~ 30.4 |
| Battery (+) terminal tightening nut | 7.8 ~ 9.8 | 0.8 ~ 1.0 | 5.2 ~ 8.7 |
| Battery (-) terminal tightening nut | 3.9 ~ 5.9 | 0.4 ~ 0.6 | 2.9 ~ 4.3 |
| Battery mounting bracket bolt | 8.8 ~ 13.7 | 0.9 ~ 1.4 | 6.5 ~ 10.1 |
| Battery tray installation bolt | 8.8 ~ 13.7 | 0.9 ~ 1.4 | 6.5 ~ 10.1 |
| Battery sensor cable installation bolt | 21.6 ~ 32.4 | 2.2 ~ 3.3 | 15.9 ~ 23.9 |
| Starter installation bolt | 49.0 ~ 63.7 | 5.0 ~ 6.5 | 36.2 ~ 47.0 |
Troubleshooting Ignition System SymptomSuspect AreaRemedyEngine will not start or is hard to start (Cranks OK) Ignition lock switchInspect ignition lock switch, or replace as requiredIgnition ...
Other information:
Hyundai Tucson (LM) 2010-2015 Service Manual: Valve Body Repair procedures
Removal 1. Remove the air duct. (Refer to Engine Mechanical System - "Air cleaner") 2. Remove the battery and the battery tray. (Refer to Engine Electrical System - "Battery") 3. Remove the under cover (A). Tightening torque : 19.6 ~ 24.5 N.m (2.0 ~ 2.5 kgf.m, 14.5 ~ 18.1 lb-ft) ...
Hyundai Tucson (LM) 2010-2015 Owners Manual: Snow or icy conditions
You need to keep sufficient distance between your vehicle and the vehicle in front of you. Apply the brakes gently. Speeding, rapid acceleration, sudden brake applications, and sharp turns are potentially very hazardous practices. During deceleration, use engine braking to the fullest exte ...
© 2010-2021 www.htmanual.net