Hyundai Tucson: Maintenance / Brake fluid
Checking the brake fluid level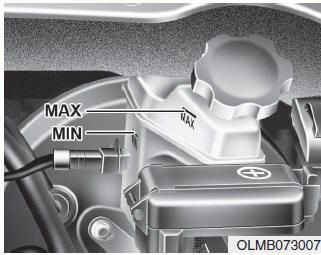 Check the fluid level in the reservoir periodically. The fluid level should be between MAX and MIN marks on the side of the reservoir.
Before removing the reservoir cap and adding brake fluid, clean the area around the reservoir cap thoroughly to prevent brake fluid contamination.
If the level is low, add the specified brake fluid to the MAX level. The level will fall with accumulated mileage.
This is a normal condition associated with the wear of the brake linings. If the fluid level is excessively low, have the brake system checked by an authorized HYUNDAI dealer.
WARNING
If the brake system requires frequent additions of fluid this could indicate a leak in the brake system. Have the vehicle inspected by an authorized HYUNDAI dealer.
WARNING
Do not allow brake fluid to come in contact with your eyes. If brake fluid comes in contact with your eyes, flush your eyes with clean water for at least 15 minutes and get immediate medical attention.
CAUTION
Do not allow brake fluid to contact the vehicle's body paint, as paint damage will result.
Brake fluid, which has been exposed to open air for an extended time should NEVER be used as its quality cannot be guaranteed. It should be disposed of properly.
Do use the wrong kind of brake fluid. A few drops of mineral based oil, such as engine oil, in your brake system can damage brake system parts.
✽ NOTICE
Use only the specified brake fluid
Have coolant changed by an authorized HYUNDAI dealer according to the Maintenance Schedule at the beginning of this chapter. WARNING Do not use engine coolant or antifreeze in the washer fluid ...
Checking the washer fluid level Check the fluid level in the washer fluid reservoir and add fluid if necessary. Plain water may be used if washer fluid is not available. However, use washer sol ...
Other information:
Hyundai Tucson (LM) 2010-2015 Owners Manual: Hazard warning flasher
The hazard warning flasher serves as a warning to other drivers to exercise extreme caution when approaching, overtaking, or passing your vehicle. It should be used whenever emergency repairs are being made or when the vehicle is stopped near the edge of a roadway. To turn the hazard warni ...
Hyundai Tucson (LM) 2010-2015 Service Manual: Alignment Repair procedures
Front Wheel Alignment When using a commercially available computerized wheel alignment equipment to inspect the front wheel alignment, always position the vehicle on a level surface with the front wheels facing straight ahead. Prior to inspection, make sure that the f ...