Hyundai Tucson: Maintenance / Washer fluid
Checking the washer fluid level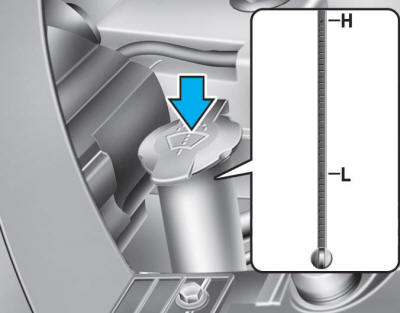 Check the fluid level in the washer fluid reservoir and add fluid if necessary.
Plain water may be used if washer fluid is not available.
However, use washer solvent with antifreeze characteristics in cold climates to prevent freezing.
CAUTION
To prevent serious injury or death, take the following safety precautions when using washer fluid:
Do not use engine coolant or antifreeze in the washer fluid reservoir. Engine coolant can severely obscure visibility when sprayed on the windshield and may cause loss of vehicle control resulting in an accident or damage to paint and body trim.
Do not allow sparks or flame to contact the washer fluid or the washer fluid reservoir. Washer fluid may contain alcohol and can be flammable.
Do not drink washer fluid and avoid contact with skin. Washer fluid is poisonous to humans and animals.
Keep washer fluid away from children and animals.
Checking the brake fluid level Check the fluid level in the reservoir periodically. The fluid level should be between MAX and MIN marks on the side of the reservoir. Before removing the reservoi ...
Other information:
Hyundai Tucson (LM) 2010-2015 Owners Manual: USB Mode Menu
Within this mode, you will have access to the Info, Random(Shuffle), Repeat, Copy and List features. Info Press the button to display details about the current file. ✽ NOTICE When the 'Folder File' option is set as the default display within Display setup, the album/arti ...
Hyundai Tucson (LM) 2010-2015 Owners Manual: Trailer towing
If you are considering to tow with your vehicle, you should first check with your state's Department of Motor Vehicles to determine legal requirements. Since laws vary from state to state the requirements for towing trailers, vehicles, or other types of vehicles or apparatus may differ. Ask an ...