Hyundai Tucson: Engine Control System / Camshaft Position Sensor (CMPS) Description and Operation
Camshaft Position Sensor (CMPS) is a hall sensor and detects the camshaft position by using a hall element.
It is related with Crankshaft Position Sensor (CKPS) and detects the piston position of each cylinder which the CKPS can't detect.
The CMPS is installed on engine head cover and uses a target wheel installed on the camshaft. The Cam Position sensor is a hall-effect type sensor. As the target wheel passes the Hall sensor, the magnetic field changes in the sensor. The sensor then switches a signal which creates a square wave.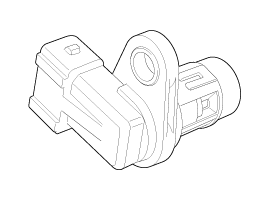 Inspection 1. Check signal waveform of CKPS and CMPS using a GDS. Specification: Refer to "Waveform" Removal 1. Turn the ignition switch OFF and disconnect the battery negative (-) ...
Other information:
Hyundai Tucson (LM) 2010-2015 Service Manual: Spark Plug Description and Operation
Description A spark plug is a device for delivering electric current from an ignition system to the combustion chamber of a spark-ignition engine to ignite the compressed fuel/air mixture therein by means of an electric spark, while containing combustion pressure within the engine. A spar ...
Hyundai Tucson (LM) 2010-2015 Owners Manual: Basic Mode Screen
1. Mode Display Displays currently operating mode. 2. Channel Information Displays the category, channel number, channel name, artist and title information. 3. Preset Displays currently playing preset number [1] ~ [6]. 4. Preset Display Displays saved presets. Using Seek Press the key to ...
© 2010-2019 www.htmanual.net