Hyundai Tucson: AVN System / Components and Components Location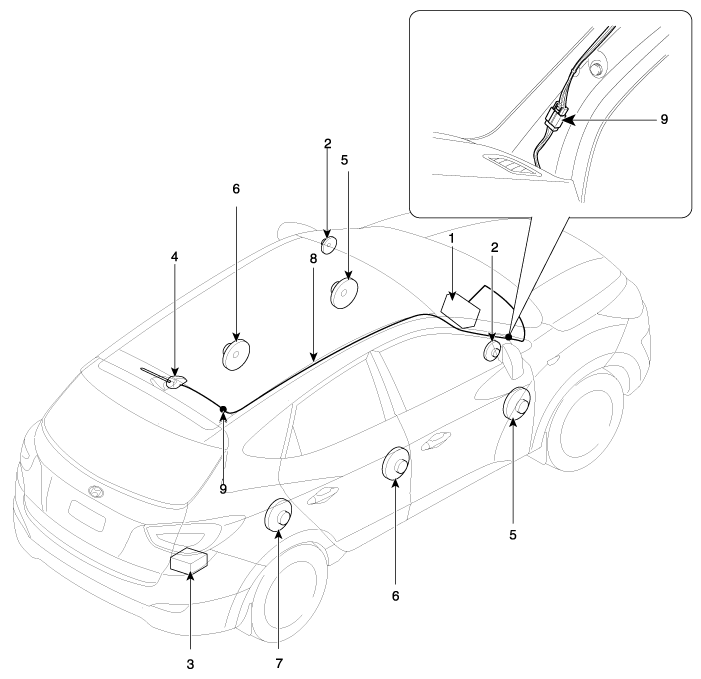 1. AVN (A/V & Navigation head unit)




2. Tweeter speaker




3. External amplifier




4. Roof antenna (GPS)




5. Front door speaker




6. Rear door speaker




7. Subwoofer speaker




8. Antenna feeder cable




9. Feeder cable joint connector




10. Surround speaker (Option)




11. Back view camera



Specifications ItemSpecificationPower sourceDC 14.4V (-) groundFrequency range / Channel spaceFM : 87.5 ~ 108.0 MHz / 100 KHzAM : 531 ~ 1602 KHz / 9 KHzTuning typePLL SYNTHESIZED TUNINGImpedance2 ...
Other information:
Hyundai Tucson (LM) 2010-2015 Owners Manual: Digital clock
To set the time: The ignition switch must be in the ACC position or the ON position. With Audio off 1. Press the CLOCK button until the clock display blinks. 2. Set the clock by using the TUNE knob. WARNING Clock setting Do not adjust the clock while driving, you may lose steering c ...
Hyundai Tucson (LM) 2010-2015 Service Manual: Special Service Tools
Special Service Tools Tool(Number and Name)IllustrationUseDeployment tool0957A-34100AAirbag deployment tool.Deployment adapter0957A-3Q100Use with deployment tool.(PAB, CAB, APT)Deployment adapter0957A-3F100Use with deployment tool.(SAB)Deployment adapter0957A-38500Use with deployment tool.(DAB, ...
© 2010-2019 www.htmanual.net