Hyundai Tucson: Automatic climate control system / Manual heating and air conditioning
The heating and cooling system can be controlled manually by pushing buttons or turning knob(s) other than the AUTO button. In this case, the system works sequentially according to the order of buttons or knob(s) selected.
✽ NOTICE
When pressing any button (or turning any knob) except the AUTO button while using automatic operation, the functions not selected will continue to be controlled automatically.
1. Start the engine.
2. Set the mode to the desired position.
To improve the effectiveness of heating and cooling;
- Heating:

- Cooling:

3. Set the temperature control to the desired position.
4. Set the air intake control to the outside (fresh) air position.
5. Set the fan speed control to the desired speed.
6. If air conditioning is desired, turn the air conditioning system on.
Press the AUTO button in order to convert to full automatic control of the system.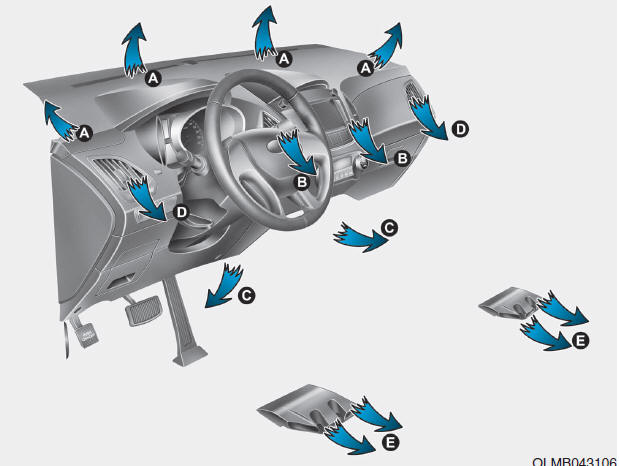 When using the AUTO climate control mode, the fan speeds, mode selection, air intake control, and the air conditioning will be automatically controlled according to the desired temperature set ...
The mode selection button controls the direction of the air flow through the ventilation system. The air flow outlet port is converted as follows: Face-Level (B, D) Air flow is directed t ...
Other information:
Hyundai Tucson (LM) 2010-2015 Service Manual: TPMS Receiver Description and Operation
Description 1. Mode (1) Virgin State A. The receiver as a sole part is shipped in this state. Replacement parts should therefore arrive in this state. B. In this state, there is no sensor monitoring and no DTC monitoring. C. The state indicates that platform specific parameters must ...
Hyundai Tucson (LM) 2010-2015 Owners Manual: Emergency towing
If towing is necessary, we recommend you have it done by an authorized HYUNDAI dealer or a commercial tow truck service. If towing service is not available in an emergency, your vehicle may be temporarily towed using a cable or chain secured to the emergency towing hook at the front (or rea ...