Hyundai Tucson: Automatic climate control system / Manual heating and air conditioning
The heating and cooling system can be controlled manually by pushing buttons or turning knob(s) other than the AUTO button. In this case, the system works sequentially according to the order of buttons or knob(s) selected.
✽ NOTICE
When pressing any button (or turning any knob) except the AUTO button while using automatic operation, the functions not selected will continue to be controlled automatically.
1. Start the engine.
2. Set the mode to the desired position.
To improve the effectiveness of heating and cooling;
- Heating:

- Cooling:

3. Set the temperature control to the desired position.
4. Set the air intake control to the outside (fresh) air position.
5. Set the fan speed control to the desired speed.
6. If air conditioning is desired, turn the air conditioning system on.
Press the AUTO button in order to convert to full automatic control of the system.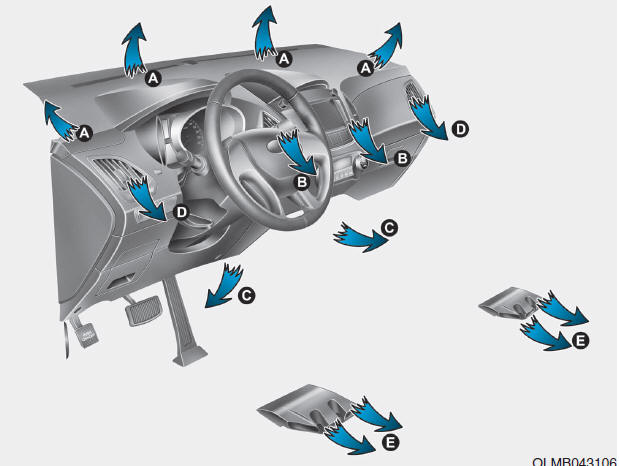 When using the AUTO climate control mode, the fan speeds, mode selection, air intake control, and the air conditioning will be automatically controlled according to the desired temperature set ...
The mode selection button controls the direction of the air flow through the ventilation system. The air flow outlet port is converted as follows: Face-Level (B, D) Air flow is directed t ...
Other information:
Hyundai Tucson (LM) 2010-2015 Owners Manual: Headrest
The vehicle's front and rear seats have adjustable headrests.The headrests provide comfort for passengers, but more importantly they are designed to help protect passengers from whiplash and other neck and spinal injuries during an accident, especially in a rear impact collision. WARNING T ...
Hyundai Tucson (LM) 2010-2015 Service Manual: Cylinder Block Repair procedures
Disassembly Engine removal is required for this procedure. • Use fender covers to avoid damaging painted surfaces. • To avoid damaging the cylinder head, wait until the engine coolant temperature drops below normal temperature before removing it. • ...