Hyundai Tucson: Bluetooth® Wireless Technology Audio Mode / Connecting a Device
Press the

key

Select [Phone]

Select [Paired Phone List]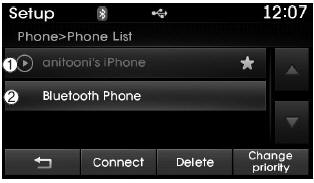 1) Connected Phone : Device that is currently connected
2) Paired Phone : Device that is paired but not connected
From the paired phone list, select the device you want to connect and press the

button.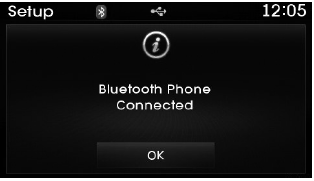 What is Bluetooth® Wireless Technology Pairing? Pairing refers to the process of synchronizing your Bluetooth® Wireless Technology phone or device with the car audio system for connection. Pairi ...
What is Priority? It is possible to pair up to five Bluetooth® Wireless Technology devices with the car audio system. The "Change Priority" feature is used to set the connection priority of pair ...
Other information:
Hyundai Tucson (LM) 2010-2015 Service Manual: Description and Operation
Description Limitations Of The Navigation system GPS Signal Reception State As the GPS satellite frequency is received/transmitted in straight lines, reception may not work if hiding devices are placed on or near the GPS antenna or when traveling through the following locations. • T ...
Hyundai Tucson (LM) 2010-2015 Service Manual: Specifications
Specifications ItemsSpecificationsClutch operation methodHydraulic typeClutch cover TypeDiaphragm spring strapClutch disc Type TypeSingle dry with diaphragmFacing diameterO235 x O155 mm ( O9.2520 x O6.1025 in.)(Outer x inner)Clutch release cylinderinner diameter20.64 mm (0.8126 ...