Hyundai Tucson: Bluetooth® Wireless Technology Audio Mode / Connecting a Device
Press the

key

Select [Phone]

Select [Paired Phone List]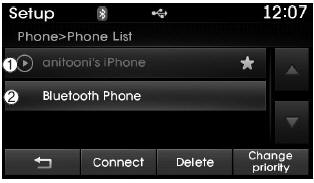 1) Connected Phone : Device that is currently connected
2) Paired Phone : Device that is paired but not connected
From the paired phone list, select the device you want to connect and press the

button.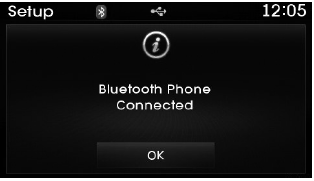 What is Bluetooth® Wireless Technology Pairing? Pairing refers to the process of synchronizing your Bluetooth® Wireless Technology phone or device with the car audio system for connection. Pairi ...
What is Priority? It is possible to pair up to five Bluetooth® Wireless Technology devices with the car audio system. The "Change Priority" feature is used to set the connection priority of pair ...
Other information:
Hyundai Tucson (LM) 2010-2015 Service Manual: Troubleshooting
Troubleshooting SymptomPossible causeRemedyHard steeringImproper front wheel alignmentExcessive turning resistance of lower arm ball jointLow tire pressureNo power assistCorrectReplaceAdjustRepair and replacePoor return of steering wheel to centerImproper front wheel alignmentCorrectPoor or rou ...
Hyundai Tucson (LM) 2010-2015 Service Manual: Repair procedures
On-vehicle Inpection • First of all, check for DTCs. If a DTC is present, perform troubleshooting in accordance with the procedure for that DTC. (Refer to DTC guide) • Check that the battery cables are connected to the correct termina ...