Hyundai Tucson: General Information / Specifications
Items




Specification




Fuel Tank




Capacity




58x (15.3 U.S.gal., 61.3 U.S.qt., 51.0 Imp.qt.)




Fuel Filter




Type




Paper type




Fuel Pressure




Low Pressure Fuel Line




495 ~ 505 kPa (4.9 ~ 5.1 kgf/cmx, 71.8 ~ 73.2 psi)




High Pressure Fuel Line




2.0 ~ 15.0 MPa (20.4 ~ 153.0 kgf/cmx, 290.1 ~ 2175.6 psi)




Fuel Pump




Type




Electrical, in-tank type




Driven by




Electric motor




High Pressure Fuel Pump




Type




Mechanical type




Driven by




Camshaft



Manifold Absolute Pressure Sensor (MAPS)
x Type: Piezo-resistive pressure sensor type
Pressure




[kPa (kgf/cmx, psi)]




Output Voltage (V)




20.0 (0.20, 2.9)




0.79




46.7 (0.47, 6.77)




1.84




101.3 (1.03, 14.7)




4.0



Intake Air Temperature Sensor (IATS)
Temperature




Resistance (kx)




°C




°F




-40




-40




40.93 ~ 48.35




-20




-4




13.89 ~ 16.03




0




32




5.38 ~ 6.09




10




50




3.48 ~ 3.90




20




68




2.31 ~ 2.57




40




104




1.08 ~ 1.21




50




122




1.56 ~ 1.74




60




140




0.54 ~ 0.62




80




176




0.29 ~ 0.34



Engine Coolant Temperature Sensor (ECTS)
Temperature




Resistance (kx)




°C




°F




-40




-40




48.14




-20




-4




14.13 ~ 16.83




0




32




5.79




20




68




2.31 ~ 2.59




40




104




1.15




60




140




0.59




80




176




0.32



Throttle Position Sensor (TPS) [integrated into ETC module]
x Type: Hall IC Non-contact sensor type
Throttle angle(°)




Output Voltage (V)




TPS1




TPS2




0




0.5




4.5




10




0.96




4.05




20




1.41




3.59




30




1.87




3.14




40




2.32




2.68




50




2.78




2.23




60




3.23




1.77




70




3.69




1.32




80




4.14




0.86




90




4.6




0.41




98




4.65




0.35




C.T (0)




0.5




4.5




W.O.T (86)




4.41




0.59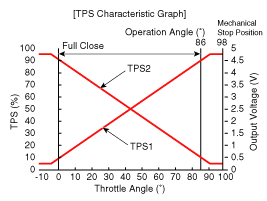 Crankshaft Position Sensor (CKPS)
x Type: Magnetic field sensitive Type
| | |
| --- | --- |
| Item | Specification |
| Coil Resistance (x) | 774 ~ 946 [20°C (68°F)] |
Camshaft Position Sensor (CMPS)
x Type: Piezo-electricity type
| | |
| --- | --- |
| Item | Specification |
| Capacitance (pF) | 850 ~ 1,150 |
Heated Oxygen Sensor (HO2S) [Bank 1/Sensor 1]
x Type: Zirconia (ZrO2) [Linear] type
| | |
| --- | --- |
| Item | Specification |
| Heater Resistance (x) | 2.4 ~ 4.0 [20°C(69.8°F)] |
Heated Oxygen Sensor (HO2S) [Bank 1/Sensor 2]
x Type: Zirconia (ZrO2) [Binary] type
| | |
| --- | --- |
| A/F Ratio (x) | Output Voltage(V) |
| RICH | 0.6 ~ 1.0 |
| LEAN | 0 ~ 0.4 |
| | |
| --- | --- |
| Item | Specification |
| Heater Resistance (x) | Approx. 9.0 [20°C(68°F)] |
Rail Pressure Sensor (RPS)
x Type: Piezo-electricity type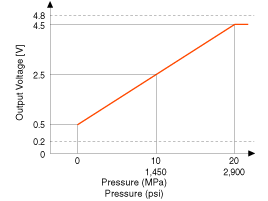 Accelerator Position Sensor (APS)
x Type: Variable resistor type
Accelerator




Position




Output Voltage (V)




APS1




APS2




C.T




0.7 ~ 0.8




0.29 ~ 0.46




W.O.T




3.85 ~ 4.35




1.93 ~ 2.18



Fuel Tank Pressure Sensor (FTPS)
x Type: Piezo - Resistivity type
| | |
| --- | --- |
| Pressure [kPa (kgf/cmx, in H2O) | Output Voltage (V) |
| -6.67 (-0.068, -26.8) | 0.5 |
| 0 | 2.5 |
| +6.67 (0.068, 26.8) | 4.5 |
| | |
| --- | --- |
| Item | Specification |
| Coil Resistance (x) | 1.5 [20°C(68°F)] |
ETC Motor [integrated into ETC Module]
| | |
| --- | --- |
| Item | Specification |
| Coil Resistance (x) | 0.3 ~ 100 [20°C(68°F)] |
Purge Control Solenoid Valve (PCSV)
| | |
| --- | --- |
| Item | Specification |
| Coil Resistance (x) | 22.0 ~ 26.0 [20°C(68°F)] |
CVVT Oil Control Valve (OCV)
| | |
| --- | --- |
| Item | Specification |
| Coil Resistance (x) | 9.4 ~ 10.4 [20°C(68°F)] |
Variable Intake Solenoid (VIS) Valve
| | |
| --- | --- |
| Item | Specification |
| Coil Resistance (x) | 30.0 ~ 35.0 [20°C(68°F)] |
Fuel Pressure Control Valve
| | |
| --- | --- |
| Item | Specification |
| Coil Resistance (x) | 0.5 [20°C(68°F)] |
| | |
| --- | --- |
| Item | Specification |
| Primary Coil Resistance (x) | 0.75 ± 15%[20°C(68°F)] |
| Secendary Coil Resistance (kx) | 5.9 ± 15%[20°C(68°F)] |
Canister Close Valve (CCV)
| | |
| --- | --- |
| Item | Specification |
| Coil Resistance (x) | 19.8 ~ 21.8 [20°C(68°F)] |
Item




Specification




Ignition Timing (°)




ATDC 5 ± 10




Idle Speed (rpm)




A/C OFF




Neutral, N, P-range




660 ± 100




D-range




660 ± 100




A/C ON




Neutral, N, P-range




660 ± 100




D-range




660 ± 100



Engine Control System
| | | | |
| --- | --- | --- | --- |
| Item | kgf.m | N.m | lb-ft |
| ECM installation nut | 0.4 ~ 0.6 | 3.9 ~ 5.9 | 2.9 ~ 4.3 |
| ECM bracket installation bolt | 2.2 ~ 3.3 | 21.6 ~ 32.4 | 15.9 ~ 23.9 |
| ECM bracket installation nut | 1.0 ~ 1.5 | 9.8 ~ 14.7 | 7.2 ~ 10.9 |
| Manifold absolute pressure sensor installation bolt | 1.0 ~ 1.2 | 9.8 ~ 11.8 | 7.2 ~ 8.7 |
| Engine coolant temperature sensor installation | 3.0 ~ 4.0 | 29.4 ~ 39.2 | 21.7 ~ 28.9 |
| Crankshaft position sensor installation bolt | 1.0 ~ 1.2 | 9.8 ~ 11.8 | 7.2 ~ 8.7 |
| Camshaft position sensor (Bank 1 / Intake) installation bolt | 1.0 ~ 1.2 | 9.8 ~ 11.8 | 7.2 ~ 8.7 |
| Camshaft position sensor (Bank 1 / Exhaust) installation bolt | 1.0 ~ 1.2 | 9.8 ~ 11.8 | 7.2 ~ 8.7 |
| Knock sensor installation bolt | 1.9 ~ 2.4 | 18.6 ~ 23.5 | 13.7 ~ 17.4 |
| Heated oxygen sensor (Bank 1 / sensor 1) installation | 4.0 ~ 5.0 | 39.2 ~ 49.1 | 28.9 ~ 36.2 |
| Heated oxygen sensor (Bank 1 / sensor 2) installation | 4.0 ~ 5.0 | 39.2 ~ 49.1 | 28.9 ~ 36.2 |
| Rail pressure sensor installation | 3.0 ~ 3.6 | 30.0 ~ 35.0 | 22.1 ~ 25.8 |
| Electronic throttle body installation bolt | 0.8 ~ 1.0 | 7.8 ~ 9.8 | 5.8 ~ 7.2 |
| Purge control solenoid valve bracket installation bolt | 1.0 ~ 1.2 | 9.8 ~ 11.8 | 7.2 ~ 8.7 |
| CVVT oil control valve (Bank 1 / Intake) installation bolt | 1.0 ~ 1.2 | 9.8 ~ 11.8 | 7.2 ~ 8.7 |
| CVVT oil control valve (Bank 1 / Exhaust) installation bolt | 1.0 ~ 1.2 | 9.8 ~ 11.8 | 7.2 ~ 8.7 |
| Ignition coil installation bolt | 1.0 ~ 1.2 | 9.8 ~ 11.8 | 7.2 ~ 8.7 |
Fuel Delivery System
| | | | |
| --- | --- | --- | --- |
| Item | kgf.m | N.m | lb-ft |
| Fuel tank installation bolt | 4.0 ~ 5.5 | 39.2 ~ 54.0 | 28.9 ~ 39.8 |
| Filler-neck assembly bracket installation bolt | 0.4 ~ 0.6 | 3.9 ~ 5.9 | 2.9 ~ 4.3 |
| Filler-neck assembly installation bolt | 0.8 ~ 1.2 | 7.8 ~ 11.8 | 5.8 ~ 8.7 |
| Accelerator pedal module installation nut | 1.7 ~ 2.6 | 9.8 ~ 14.7 | 7.2 ~ 10.8 |
| Accelerator pedal module installation bolt | 0.9 ~ 1.4 | 8.8 ~ 13.7 | 6.5 ~ 10.1 |
| Delivery pipe installation bolt | 1.9 ~ 2.4 | 18.6 ~ 23.5 | 13.7 ~ 17.4 |
| High pressure fuel pump installation bolt | 1.3 ~ 1.5 | 12.8 ~ 14.7 | 9.4 ~ 10.9 |
| High pressure fuel pipe installation nut | 2.7 ~ 3.3 | 26.5 ~ 32.4 | 19.5 ~ 23.9 |
| High pressure fuel pipe function block installation bolt | 1.0 ~ 1.2 | 9.8 ~ 11.8 | 7.2 ~ 8.7 |
Special Service Tools ItemIllustrationApplicationFuel Pressure Gauge(09353-24100)Measuring the fuel line pressureFuel Pressure Gauge Adapter(09353-02100)Connection between the high pressure fuel ...
Other information:
Hyundai Tucson (LM) 2010-2015 Service Manual: In car sensor Repair procedures
Inspection 1. Ignition "ON" 2. Blow air with changing temperature to the in car sensor air inlet. Measure sensor resistance between 1 and 2 terminals. 1. Sensor Ground2. Incar Sensor Signal Specification Temperature [°C(°F)] Resistance between terminals 1and 2 (kx)-20(-4)290.21-10(1 ...
Hyundai Tucson (LM) 2010-2015 Service Manual: Troubleshooting
Failure Diagnosis 1. In principle, ESC and TCS controls are prohibited in case of ABS failure. 2. When ESC or TCS fails, only the failed system control is prohibited. 3. However, when the solenoid valve relay should be turned off in case of ESC failure, refer to the ABS fail-safe. 4. ...