Hyundai Tucson: Bluetooth® Wireless Technology Audio Mode / Disconnecting a Device
Press the

key

Select [Phone]

Select [Paired Phone List]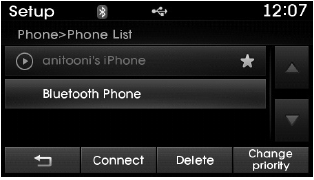 From the paired phone list, select the currently connected device and press the

button.
What is Priority? It is possible to pair up to five Bluetooth® Wireless Technology devices with the car audio system. The "Change Priority" feature is used to set the connection priority of pair ...
Press the key Select [Phone] Select [Paired Phone List] From the paired phone list, select the device you want to delete and press the button. ✽ NOTICE When deleting ...
Other information:
Hyundai Tucson (LM) 2010-2015 Service Manual: Specifications
Specifications DescriptionSpecificationsLimitGeneralTypeIn-line, DOHCxNumber of cylinders4xBore81.0 mm (3.1890 in.)xStroke97.0 mm (3.8189 in.)xTotal displacement1999 cc (121.99 cu.in.)xCompression ratio11.5±0.2 : 1xFiring order1-3-4-2xValve timingIntake valveOpenATDC 10° ~ BTDC 40°xCloseABDC ...
Hyundai Tucson (LM) 2010-2015 Service Manual: Oil Seal Repair procedures
Replacement [Right side] 1. Remove the driveshaft assembly. (RH side) (Refer to Driveshaft and axle - "Front Driveshaft ") 2. Remove the dust cover (A). 3. Remove the oil seal (A, B). 4. Install the oil seal with special service tools. • Apply lithium t ...
© 2010-2019 www.htmanual.net