Hyundai Tucson: Setup / Display Settings
Press the

key

Select [Display] through

TUNE knob or

key

Select menu through

TUNE knob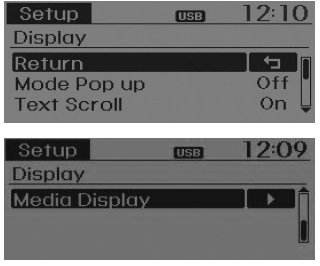 Mode Pop up
[Mode Pop up]

Changes

/

selection mode
During On state, press the

or

key to display the mode change pop up screen.
Text Scroll
[Text Scroll]

Set

/
:Maintains scroll
: Scrolls only one (1) time.
Media Display
When playing an MP3 file, select the desired display info from 'Folder/File' or 'Album/Artist/Song'.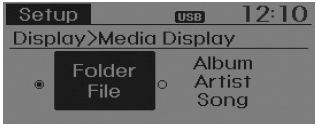 Press the key Select [Sound] through TUNE knob or key Select menu through TUNE knob Sound Settings This menu allows you to set the 'Bass, Middle, Treble' and the S ...