Hyundai Tucson: Setup / Display Settings
Press the

key

Select [Display] through

TUNE knob or

key

Select menu through

TUNE knob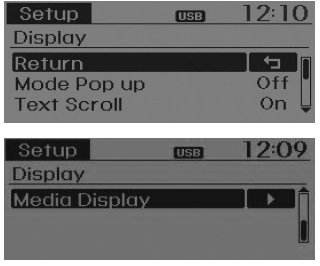 Mode Pop up
[Mode Pop up]

Changes

/

selection mode
During On state, press the

or

key to display the mode change pop up screen.
Text Scroll
[Text Scroll]

Set

/
:Maintains scroll
: Scrolls only one (1) time.
Media Display
When playing an MP3 file, select the desired display info from 'Folder/File' or 'Album/Artist/Song'.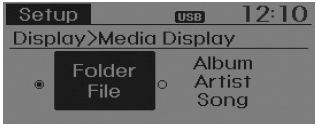 Press the key Select [Sound] through TUNE knob or key Select menu through TUNE knob Sound Settings This menu allows you to set the 'Bass, Middle, Treble' and the S ...
Other information:
Hyundai Tucson (LM) 2010-2015 Owners Manual: Battery saver function
The purpose of this feature is to prevent the battery from being discharged. The system automatically turns off the parking lights when the engine is turned off and the driverside door is opened (in that order). With this feature, the parking lights will be turned off automatically if the driv ...
Hyundai Tucson (LM) 2010-2015 Service Manual: Description and Operation
Description Ignition timing is controlled by the electronic control ignition timing system. The standard reference ignition timing data for the engine operating conditions are pre-pro grammed in the memory of the ECM (Engine Control Module). The engine operating conditions (speed, load, wa ...