Hyundai Tucson: Setup / Sound Settings
Press the
key

Select [Sound] through

TUNE knob or

key

Select menu through

TUNE knob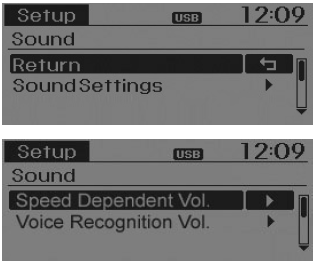 Sound Settings
This menu allows you to set the 'Bass, Middle, Treble' and the Sound Fader and Balance.
Select [Sound Settings]

Select menu through

TUNE knob

Turn

TUNE knob left/right to set
Bass, Middle, Treble : Selects the sound tone.
Fader, Balance : Moves the sound fader and balance.
Default : Restores default settings.
❈ Back : While adjusting values, repressing the
TUNE knob will restore the parent menu.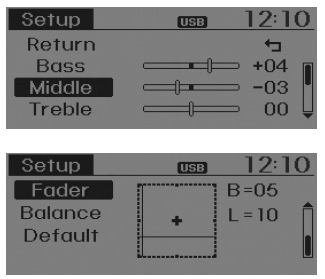 Speed Dependent Volume Control
This feature is used to automatically control the volume level according to the speed of the vehicle.
Select [Speed Dependent Vol.]

Set in 4 levels [Off/Low/Mid/High] of

TUNE knob

Voice Recognition Volume
Adjusts voice recognition volume. Select [Voice Recognition Vol.]
Set volume of
TUNE knob