Hyundai Tucson: Engine Control System / Engine Coolant Temperature Sensor (ECTS) Description and Operation
Engine Coolant Temperature Sensor (ECTS) is located in the engine coolant passage of the cylinder head for detecting the engine coolant temperature. The ECTS uses a thermistor that changes resistance with the temperature.
The electrical resistance of the ECTS decreases as the temperature increases, and increases as the temperature decreases. The reference +5V is supplied to the ECTS via a resistor in the ECM. That is, the resistor in the ECM and the thermistor in the ECTS are connected in series. When the resistance value of the thermistor in the ECTS changes according to the engine coolant temperature, the output voltage also changes.
During cold engine operation, the ECM increases the fuel injection duration and controls the ignition timing using the information of engine coolant temperature to avoid engine stalling and improve drivability.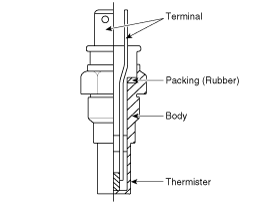 Inspection 1. Turn the ignition switch OFF. 2. Disconnect the IATS connector. 3. Measure resistance between the IATS terminals 3 and 4. 4. Check that the resistance is within the speci ...
Specification TemperatureResistance (kx)°C°F-40-4048.14-20-414.13 ~ 16.830325.7920682.31 ~ 2.59401041.15601400.59801760.32 ...
Other information:
Hyundai Tucson (LM) 2010-2015 Owners Manual: Charging system warning light
This warning light indicates a malfunction of either the generator or electrical charging system. If the warning light comes on while the vehicle is in motion: 1. Drive to the nearest safe location. 2. With the engine off, check the generator drive belt for looseness or breakage. 3. If the b ...
Hyundai Tucson (LM) 2010-2015 Owners Manual: Front windshield wipers
Operates as follows when the ignition switch is turned ON. MIST : For a single wipe, push the lever upward and release. The wipers will operate continuously if the lever is pushed upward and held in this position. OFF : Wiper is not in operation INT : Wiper operates intermittently at the s ...