Hyundai Tucson: Engine Control System / Engine Coolant Temperature Sensor (ECTS) Description and Operation
Engine Coolant Temperature Sensor (ECTS) is located in the engine coolant passage of the cylinder head for detecting the engine coolant temperature. The ECTS uses a thermistor that changes resistance with the temperature.
The electrical resistance of the ECTS decreases as the temperature increases, and increases as the temperature decreases. The reference +5V is supplied to the ECTS via a resistor in the ECM. That is, the resistor in the ECM and the thermistor in the ECTS are connected in series. When the resistance value of the thermistor in the ECTS changes according to the engine coolant temperature, the output voltage also changes.
During cold engine operation, the ECM increases the fuel injection duration and controls the ignition timing using the information of engine coolant temperature to avoid engine stalling and improve drivability.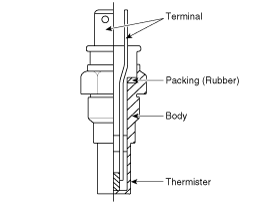 Inspection 1. Turn the ignition switch OFF. 2. Disconnect the IATS connector. 3. Measure resistance between the IATS terminals 3 and 4. 4. Check that the resistance is within the speci ...
Specification TemperatureResistance (kx)°C°F-40-4048.14-20-414.13 ~ 16.830325.7920682.31 ~ 2.59401041.15601400.59801760.32 ...
Other information:
Hyundai Tucson (LM) 2010-2015 Owners Manual: Fuses
A vehicle's electrical system is protected from electrical overload damage by fuses. This vehicle has 2 (or 3) fuse panels, one located in the driver's side panel bolster, the other in the engine compartment near the battery. If any of your vehicle's lights, accessories, or controls do ...
Hyundai Tucson (NX4) 2022-2023 Owner's Manual: Remotely Starting the Engine
Type A Type B You can start the vehicle using the Remote Start button on the smart key. To start the vehicle remotely: 1. Press the door lock button within 32 feet (10 m) from the vehicle. 2. Press and hold the remote start button () within 4 seconds. To turn off the engine: Press t ...