Hyundai Tucson: Seat warmers / Front seat warmers (if equipped)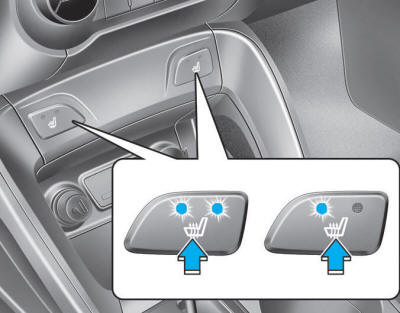 While the engine is running, push either of the switches to warm the driver's seat or front passenger's seat.
During mild weather or under conditions where the operation of the seat warmer is not needed, keep the switches in the OFF position.
Each time you push the switch, the temperature setting of the seat is changed as follows :

The seat warmer defaults to the OFF position whenever the ignition switch is placed in the ON position.
✽ NOTICE
With the seat warmer switch in the ON position, the heating system in the seat turns off or on automatically depending on the seat temperature.
Seat warmers are provided to warm the seats during cold weather. WARNING The seat warmers can cause a SERIOUS BURN, even at low temperatures and especially if used for long periods of time. Passen ...
This section describes how to use the seat belts properly. It also describes some of the things not to do when using seat belts. ...