Hyundai Tucson: Safety features of your vehicle / Seats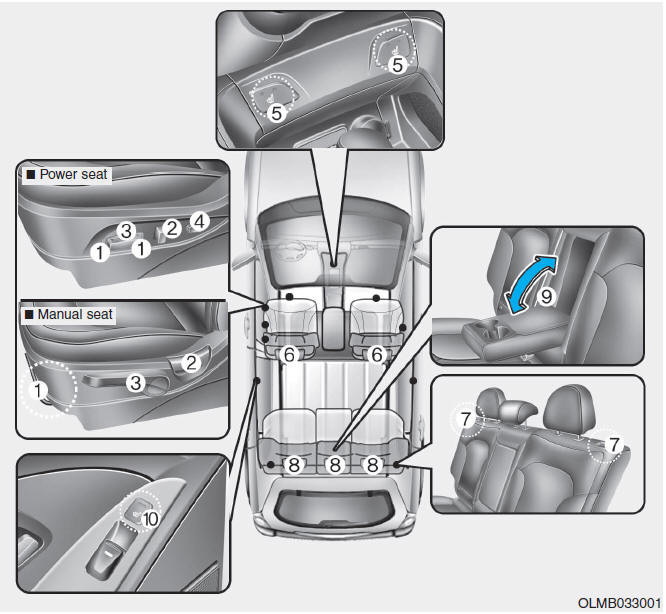 Front seats
(1) Forward and rearward
(2) Seatback angle
(3) Seat cushion height
(Driver's seat)
(4) Lumbar support (Driver's seat)
(5) Seat warmer
(6) Headrest
Rear seats
(7) Seatback angle and folding
(8) Headrest
(9) Armrest
(10) Seat warmer
You will find many safety precautions and recommendations throughout this section, and throughout this manual. The safety precautions in this section are among the most important. Always wear you ...
Adjusting the seats so that you are sitting in a safe, comfortable position plays an important role in driver and passenger safety together with the seat belts and air bags in an accident. WARNIN ...
Other information:
Hyundai Tucson (LM) 2010-2015 Owners Manual: Floor mat anchor(s)
ALWAYS use the Floor Mat Anchors to attach the front floor mats to the vehicle. The anchors on the front floor carpet keep the floor mats from sliding forward. Your vehicle was manufactured with driver's side floor mat anchors designed to securely hold the floor mat in place. To avoid any i ...
Hyundai Tucson (LM) 2010-2015 Owners Manual: All wheel drive (AWD)
The All Wheel Drive (AWD) System delivers engine power to all front and rear wheels for maximum traction. AWD is useful when extra traction is required on roads such slippery, muddy, wet, or snow-covered roads. Occasional off-road use such as established unpaved roads and trails are OK. It i ...
© 2010-2019 www.htmanual.net