Hyundai Tucson: What to do in an emergency / Hazard warning flasher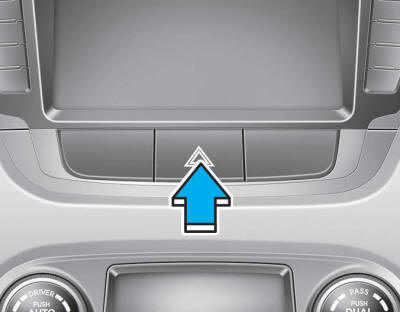 The hazard warning flasher serves as a warning to other drivers to exercise extreme caution when approaching, overtaking, or passing your vehicle.
It should be used whenever emergency repairs are being made or when the vehicle is stopped near the edge of a roadway.
To turn the hazard warning flasher on or off, press the hazard warning flasher button with the ignition switch in any position. The button is located in the center console switch panel. All turn signal lights will flash simultaneously.
The hazard warning flasher operates whether your vehicle is running or not.
The turn signals do not work when the hazard flasher is on.
If the engine stalls while driving Reduce your speed gradually, keeping a straight line. Move cautiously off the road to a safe place. Turn on your hazard warning flasher. Try to start the ...
Other information:
Hyundai Tucson (LM) 2010-2015 Owners Manual: Seat warmers
Seat warmers are provided to warm the seats during cold weather. WARNING The seat warmers can cause a SERIOUS BURN, even at low temperatures and especially if used for long periods of time. Passengers must be able to feel if the seat is becoming too warm so they can turn it off, if needed. Peo ...
Hyundai Tucson (LM) 2010-2015 Service Manual: Troubleshooting
Troubleshooting ProblemPossible causeSolutionNot pairingBluetooth device of Car is not discoverable modeEnter Bluetooth pairing (searching) modeUser's phone is Bluetooth off modeUser's phone set Bluetooth onMaking an attempt pairing others bluetooth systemCheck Bluetooth device name and add ...