Hyundai Tucson: Engine Control System / Heated Oxygen Sensor (HO2S) Description and Operation
Heated Oxygen Sensor (HO2S) consists of zirconium and alumina and is installed both upstream and downstream of the Manifold Catalytic Converter. The sensor output voltage varies in accordance with the air/fuel ratio.
The sensor must be hot in order to operate normally. To keep it hot, the sensor has a heater which is controlled by the ECM via a duty cycle signal. When the exhaust gas temperature is lower than the specified value, the heater warms the sensor tip.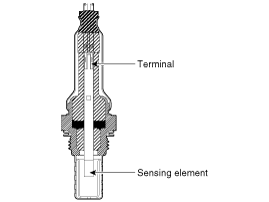 Removal 1. Turn the ignition switch OFF and disconnect the battery negative (-) cable. 2. Remove the intake manifold. (Refer to Engine Mechanical System - "Intake And Exhaust System") ...
Specification HO2S [Bank 1/Sensor 1] (Linear type) ItemSpecificationHeater Resistance (x)2.4 ~ 4.0 [20°C(68°F)] HO2S [Bank 1/Sensor 2] (Binary type) A/F Ratio (x)Output Voltage(V)RICH0.6 ~ ...
Other information:
Hyundai Tucson (LM) 2010-2015 Owners Manual: Using My Music Mode
Playing/Pausing My Music Files While playing, press the button to pause and press button to play. ✽ NOTICE If there are no files saved within My Music, the [My Music] button will be disabled. Changing Files Press the key to move to the previous or next file. ✽ NOTICE ...
Hyundai Tucson (LM) 2010-2015 Owners Manual: Storage compartments
WARNING NEVER store cigarette lighters, propane cylinders, or other flammable/explosive materials in the vehicle. These items may catch fire or explode if the vehicle is exposed to hot temperatures for extended periods. WARNING ALWAYS keep the storage compartment covers closed securely while ...
© 2010-2020 www.htmanual.net