Hyundai Tucson: Engine Control System / Heated Oxygen Sensor (HO2S) Description and Operation
Heated Oxygen Sensor (HO2S) consists of zirconium and alumina and is installed both upstream and downstream of the Manifold Catalytic Converter. The sensor output voltage varies in accordance with the air/fuel ratio.
The sensor must be hot in order to operate normally. To keep it hot, the sensor has a heater which is controlled by the ECM via a duty cycle signal. When the exhaust gas temperature is lower than the specified value, the heater warms the sensor tip.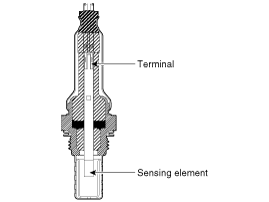 Removal 1. Turn the ignition switch OFF and disconnect the battery negative (-) cable. 2. Remove the intake manifold. (Refer to Engine Mechanical System - "Intake And Exhaust System") ...
Specification HO2S [Bank 1/Sensor 1] (Linear type) ItemSpecificationHeater Resistance (x)2.4 ~ 4.0 [20°C(68°F)] HO2S [Bank 1/Sensor 2] (Binary type) A/F Ratio (x)Output Voltage(V)RICH0.6 ~ ...
Other information:
Hyundai Tucson (LM) 2010-2015 Service Manual: General Safety Information and Caution
Instructions When Handling Refrigerant 1. R-134a liquid refrigerant is highly volatile. A drop on the skin of your hand could result in localized frostbite. When handling the refrigerant, be sure to wear gloves. 2. It is standard practice to wear goggles or glasses to protect your eye ...
Hyundai Tucson (LM) 2010-2015 Owners Manual: Sound Settings
Sound Settings Press the key Select [Sound] Select [Sound Setting] Use the , , , buttons to adjust the Fader/Balance settings. Use the , buttons to adjust the Bass/Middle/Treble settings. Press the button to reset. SDVC (Speed Dependent Volume Control) Press th ...
© 2010-2023 www.htmanual.net