Hyundai Tucson: Engine Control System / Heated Oxygen Sensor (HO2S) Description and Operation
Heated Oxygen Sensor (HO2S) consists of zirconium and alumina and is installed both upstream and downstream of the Manifold Catalytic Converter. The sensor output voltage varies in accordance with the air/fuel ratio.
The sensor must be hot in order to operate normally. To keep it hot, the sensor has a heater which is controlled by the ECM via a duty cycle signal. When the exhaust gas temperature is lower than the specified value, the heater warms the sensor tip.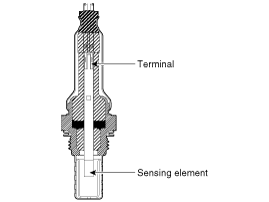 Removal 1. Turn the ignition switch OFF and disconnect the battery negative (-) cable. 2. Remove the intake manifold. (Refer to Engine Mechanical System - "Intake And Exhaust System") ...
Specification HO2S [Bank 1/Sensor 1] (Linear type) ItemSpecificationHeater Resistance (x)2.4 ~ 4.0 [20°C(68°F)] HO2S [Bank 1/Sensor 2] (Binary type) A/F Ratio (x)Output Voltage(V)RICH0.6 ~ ...
Other information:
Hyundai Tucson (LM) 2010-2015 Owners Manual: Ignition switch
WARNING To reduce the risk of SERIOUS INJURY or DEATH, take the following precautions: NEVER allow children or any person who is unfamiliar with the vehicle to touch the ignition switch or related parts. Unexpected and sudden vehicle movement can occur. NEVER reach through the steering ...
Hyundai Tucson (LM) 2010-2015 Owners Manual: Using the Room Mirror Key
Selecting the room mirror key will allow you to make service required inquiries, POI info searches, and emergency rescues by connecting to the Blue Link® Center. Such features can be used only after subscribing to the Blue Link® service. ➀ (Blue Link® Center) Makes requests for Bl ...
© 2010-2022 www.htmanual.net