Hyundai Tucson: Mirrors / Outside rearview mirrors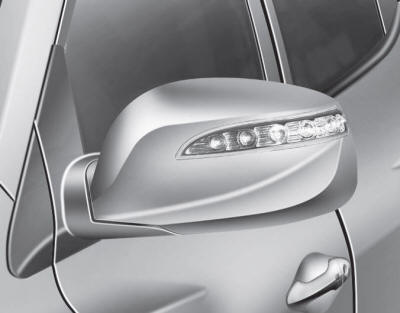 Your vehicle is equipped with both lefthand and right-hand outside mirrors.
WARNING
The right outside rearview mirror is convex. Objects seen in the mirror are closer than they appear.
Use your interior rearview mirror or turn your head and look to determine the actual distance of following vehicles when changing lanes.
WARNING
Do not adjust or fold the outside rearview mirrors while driving. This may cause loss of vehicle control resulting in an accident.
CAUTION
Do not scrape ice off the mirror face; this may damage the surface of the glass.
If the mirror is jammed with ice, do not adjust the mirror by force. Use an approved de-icer (not radiator antifreeze) spray, or a sponge or soft cloth with very warm water, or move the vehicle to a warm place and allow the ice to melt.
Adjusting the rearview mirrors:
Press either the L (driver's side) or R (passenger's side) button (1) to select the rearview mirror you would like to adjust.
Use the mirror adjustment control (2) to position the selected mirror up, down, left or right.
After adjustment, press the L or R button (1) again to prevent inadvertent adjustment.
CAUTION
The mirrors stop moving when they reach the maximum adjusting angles, but the motor continues to operate while the switch is pressed. Do not press the switch longer than necessary; the motor may be damaged.
Do not attempt to adjust the outside rearview mirror by hand or the motor may be damaged.
Your vehicle may be equipped with a Gentex Automatic-Dimming Mirror with a Z-Nav™ Electronic Compass Display and an Integrated HomeLink® Wireless Control System. During nighttime driving, this ...
To fold outside rearview mirror, grasp the housing of mirror and then fold it toward the rear of the vehicle. ...
Other information:
Hyundai Tucson (LM) 2010-2015 Owners Manual: Locking
To lock : 1. Close all doors, engine hood and tailgate. 2. Either press the door handle button or press the Door Lock button (1) on the smart key. 3. The hazard warning lights will blink and the chime will sound once. 4. Make sure the doors are locked by checking the position of the door l ...
Hyundai Tucson (LM) 2010-2015 Service Manual: Compass Mirror Repair procedures
Adjustment Calibration procedure If the display read "C", calibrate the compass. 1. Driving the vehicle in a circle at less than 8km/h 3 times or until the compass heading appears. 2. Driving in a circle in right-handed direction and opposite direction are possible, and if the calibratio ...