Hyundai Tucson: Operating door locks from outside the vehicle / Remote key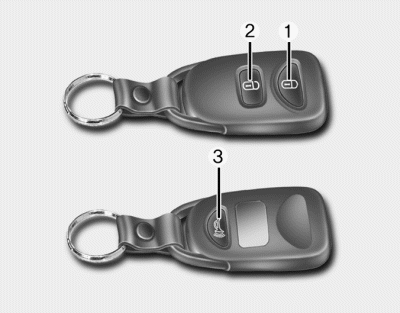 To lock the doors, press the Door Lock button (1) on the remote key.
Press the Door Unlock button (2) on the remote key, the driver's door will unlock. If you press the Door Unlock button on the remote key again within four seconds, then all the doors will unlock.
Once the doors are unlocked, they may be opened by pulling the door handle.
When closing the door, push the door by hand. Make sure that doors are closed securely.
✽ NOTICE
You can change the system to the central door unlock mode (unlock all the doors when you press the unlock button one time). If you want this feature, perform the following: Unlock mode conversion (two stage unlock mode ↔ central door unlock mode)
The unlock mode changes alternately by pressing the lock button and unlock button on the remote key at the same time for 4 seconds or more. The hazard warning lights will blink four times to indicate that the mode conversion is completed
✽ NOTICE
In cold and wet climates, door lock and door mechanisms may not work properly due to freezing conditions.
If the door is locked/unlocked multiple times in rapid succession with either the vehicle key or door lock switch, the system may stop operating temporarily in order to protect the circuit and prevent damage to system components.