Hyundai Tucson: Automatic Transaxle Control System / Torque Converter Control Solenoid Valve (T/CON_VFS) Schematic Diagrams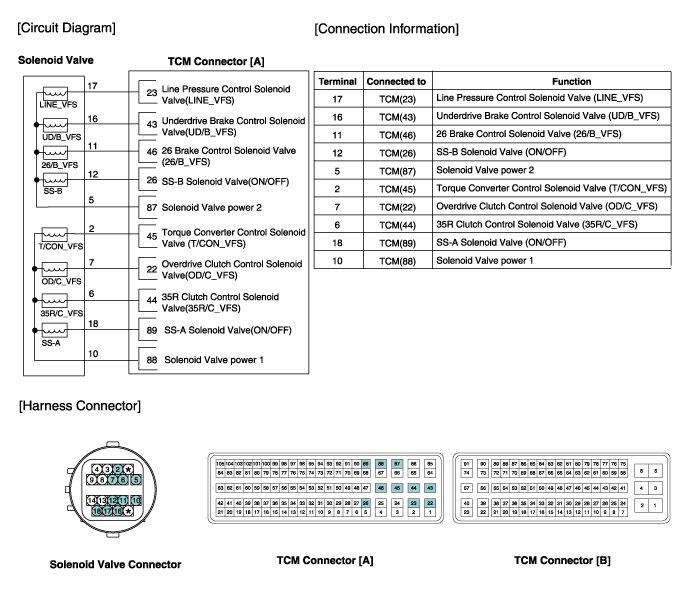 Specifications Direct control VFS[T/CON] x Control type : Normal low type Control Pressure kpa (kgf/cmx, psi)9.81 ~ 500.14(0.1 ~ 5.1,1.42 ~ 72.54)Current value(mA)50 ~ 850 Internal resist ...
Inspection 1. Turn ignition switch OFF. 2. Disconnect the solenoid valve connector. 3. Measure resistance between sensor signal terminal and sensor ground terminal. 4. Check that the ...
Other information:
Hyundai Tucson (LM) 2010-2015 Service Manual: Components and Components Location
Components Location 1. Fuel tank2. Fuel pump3. Fuel filter4. Fuel pressure regulator5. Canister6. Fuel tank air filter7. Fuel tank band8. Fuel tank pressure sensor (FTPS) 9. Canister close valve (CCV) 10. Fuel level sender (FLS)11. Fuel filler hose12. Ventilation tube13. Vapor tube14. Fuel pump ...
Hyundai Tucson (LM) 2010-2015 Owners Manual: Seat warmers
Seat warmers are provided to warm the seats during cold weather. WARNING The seat warmers can cause a SERIOUS BURN, even at low temperatures and especially if used for long periods of time. Passengers must be able to feel if the seat is becoming too warm so they can turn it off, if needed. Peo ...
© 2010-2019 www.htmanual.net