Hyundai Tucson: Blue Link® / Turn by Turn
The Turn by Turn feature can be used through Blue Link®.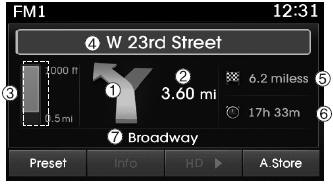 1. Direction Indicator Image
2. Remaining distance until next point
3. The Count bar is divided into a total of 9 levels.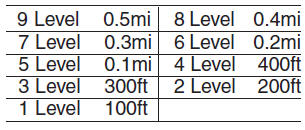 4. Next Street name
5. Distance to destination
6. Expected Time Arrival
7. Current Street name
❈ For information on specific Blue Link® operations, please refer to a separate manual.
• What is Eco Coach? Every 2.5 minutes, Eco Coach compares your fuel economy against the government tested average (EPA) or other similar Hyundai models (community), based on your prefer ...
WARNING Carbon monoxide (CO) gas is toxic. Breathing CO can cause unconsciousness and death. Engine exhaust contains carbon monoxide which cannot be seen or smelled. Do not inhale engine exhaust. ...
Other information:
Hyundai Tucson (LM) 2010-2015 Service Manual: Components and Components Location
Components Location 1. Engine Control Module (ECM)2. Manifold Absolute Pressure Sensor (MAPS)3. Intake Air Temperature Sensor (IATS)4. Engine Coolant Temperature Sensor (ECTS)5. Throttle Position Sensor (TPS) [integrated into ETC Module]6. Crankshaft Position Sensor (CKPS)7. Camshaft Position ...
Hyundai Tucson (LM) 2010-2015 Owners Manual: Use of compact spare tires
Compact spare tires are designed for emergency use only. Drive carefully on the compact spare tire and always follow the safety precautions. WARNING To prevent compact spare tire failure and loss of control possibly resulting in an accident: Use the compact spare tire only in an emergency. ...