Hyundai Tucson: Blue Link® / Turn by Turn
The Turn by Turn feature can be used through Blue Link®.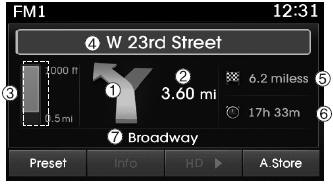 1. Direction Indicator Image
2. Remaining distance until next point
3. The Count bar is divided into a total of 9 levels.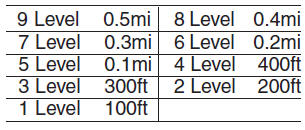 4. Next Street name
5. Distance to destination
6. Expected Time Arrival
7. Current Street name
❈ For information on specific Blue Link® operations, please refer to a separate manual.
• What is Eco Coach? Every 2.5 minutes, Eco Coach compares your fuel economy against the government tested average (EPA) or other similar Hyundai models (community), based on your prefer ...
WARNING Carbon monoxide (CO) gas is toxic. Breathing CO can cause unconsciousness and death. Engine exhaust contains carbon monoxide which cannot be seen or smelled. Do not inhale engine exhaust. ...
Other information:
Hyundai Tucson (LM) 2010-2015 Service Manual: Ignition Coil Description and Operation
Description An ignition coil is an induction coil in an engine's ignition system which transforms the battery's low voltage to the high voltage needed to create an electric spark in the spark plugs to ignite the fuel. Coils have an internal resistor while others rely on a resistor wire or ...
Hyundai Tucson (LM) 2010-2015 Owners Manual: Consumer information
This consumer information has been prepared in accordance with regulations issued by the National Highway Traffic Safety Administration of the U.S. Department of Transportation.Your HYUNDAI dealer will help answer any questions you may have as you read this information. HYUNDAI motor vehicles ...