Hyundai Tucson: Blue Link® / Eco Coach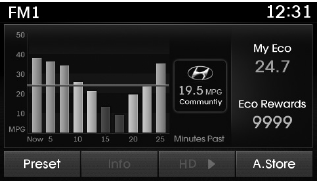 Every 2.5 minutes, Eco Coach compares your fuel economy against the government tested average (EPA) or other similar Hyundai models (community), based on your preference.
Each month, or after every tank fill up, Eco Coach rates your extended average and gives you a reward star if you beat the average.
See your My Hyundai web page for more information.
• What does the bar graph and horizontal line mean?
The horizontal line is adjusted once per month or at each tank full, based on your preference; it represents the EPA combined average or community average fuel economy target.
Your actual fuel economy average over 2.5 minutes.
This value is also shown in bar graph as your "now" rating.
If you beat the average (the EPA or community), you will receive an Eco Reward point.
See your my Hyundai web page for more information.
[Eco Driving] will not operate if the vehicle ignition is not turned on. Please operate with the ignition turned on.
Selecting the room mirror key will allow you to make service required inquiries, POI info searches, and emergency rescues by connecting to the Blue Link® Center. Such features can be used only aft ...
The Turn by Turn feature can be used through Blue Link®. 1. Direction Indicator Image 2. Remaining distance until next point 3. The Count bar is divided into a total of 9 levels. 4. Next Stre ...
Other information:
Hyundai Tucson (LM) 2010-2015 Service Manual: Windshield Deicer Repair procedures
Inspection 1. Remove the cowl top cover. (Refer to the wiper) 2. Disconnect the windshield deicer connector (A) from the wiper motor linkage. 3. Check for continuity between the terminals of deicer lines. 4. Turn the ignition switch ON and the windshield deicer switch ON, then mea ...
Hyundai Tucson (LM) 2010-2015 Owners Manual: Changing a Tire with TPMS
If you have a flat tire, the Low Tire Pressure Telltale will illuminate. If you believe you have a flat tire or feel any vehicle instability, take your foot off the accelerator pedal and let the vehicle slow down while driving straight ahead. Do not apply the brakes immediately or attempt to p ...