Hyundai Tucson: MY Music mode / Using My Music Mode
Playing/Pausing My Music Files
While playing, press the

button to pause and press

button to play.
✽ NOTICE
If there are no files saved within My Music, the [My Music] button will be disabled.
Changing Files
Press the
key to move to the previous or next file.
✽ NOTICE
Pressing the key after the file has been playing for 2 seconds will start the current file from the beginning.
Pressing the key before the file has been playing for 1 seconds will start the previous file.
Selecting from the List
Turn the

TUNE knob left/right to search for the desired file.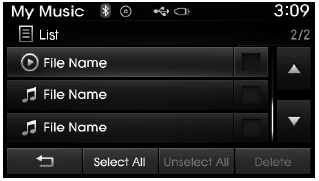 Once you find the desired file, press the

TUNE knob to start playing.
Rewinding / Fast-forwarding Files
While playing, press and hold the

key (over 0.8 seconds) to rewind or fast-forward the current file.
Scan
Press the

key to play the first 10 seconds of each file.
1. Mode Displays currently operating mode. 2. Operation State From Repeat/Random(Shuffle)/ Scan, displays the currently operating function. 3. File Index Displays the current file/total number o ...
Within this mode, you will have access to the Info, Random(Shuffle), Repeat, Delete and List features. Info Press the button to display details about the current file. ✽ NOTICE The title, ...