Hyundai Tucson: Manual climate control system / Heating and air conditioning
1. Start the engine.
2. Set the mode to the desired position.
To improve the effectiveness of heating and cooling;
- Heating:

- Cooling:

3. Set the temperature control to the desired position.
4. Set the air intake control to the outside (fresh) air position.
5. Set the fan speed control to the desired speed.
6. If air conditioning is desired, turn the air conditioning system on.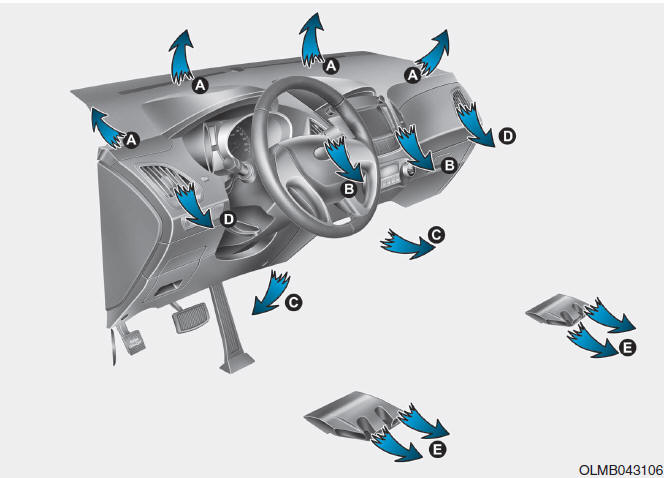 1. Fan speed control knob 2. Front windshield defroster button 3. MAX A/C mode button 4. Temperature control knob 5. Air conditioning button 6. Mode selection button 7. Air intake control butt ...
The mode selection button controls the direction of the air flow through the ventilation system. Air can be directed to the floor, dashboard outlets, or windshield. Six symbols are used to re ...
Other information:
Hyundai Tucson (LM) 2010-2015 Owners Manual: Disc brakes wear indicator
When your brake pads are worn and new pads are required, you will hear a high pitched warning sound from your front or rear brakes. You may hear this sound come and go or it may occur whenever you depress the brake pedal. Please remember some driving conditions or climates may cause a brake squ ...
Hyundai Tucson (LM) 2010-2015 Owners Manual: SRS care
The SRS is virtually maintenancefree and there are no parts you can safely service by yourself. If the SRS air bag warning light does not illuminate when the ignition switch is in the ON position, or continuously remains on, have your vehicle immediately inspected by an authorized HYUNDAI deal ...