Hyundai Tucson: Hydraulic System / Valve Body Description and Operation
The valve body is essential to automatic transaxle control and consists of various valves used to control the oil feed from the oil pump.
Specifically, these valves consist of pressure regulator valves, oil redirection valves, shift valves, and manual valves.
The body also features electronic solenoid valves that ensure smooth gear changes.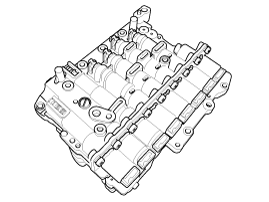 Service Adjustment Procedure Oil level Check A check of ATF level is not normally required during scheduled services. If an oil leak is found, perform the oil level chec ...
Components Location 1. PCV adjust screw2. Solenoid valve3. Oil temperature sensor4. Accumulator5. Under drive brake (UD/B) pressure flow hole6. Low & reverse brake (LR/B) pressure flow hole ...
© 2010-2020 www.htmanual.net