Hyundai Tucson: Charging System / Alternator Specifications
Item




Specification




Rated voltage




13.5V, 120A




Speed in use




1,000 ~ 18,000 rpm




Voltage regulator




IC Regulator built-in type




Regulator Setting Voltage




External mode




Refer to below graph




Internal mode




14.55 ± 0.3V




Temperature Gradient




External mode




0 ± 3 mV / °C




Internal mode




-3.5 ± 2mV / °C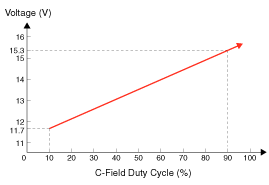 x Regulator Setting Voltage (External mode)
Description The Alternator has eight built-in diodes, each rectifying AC current to DC current. Therefore, DC current appears at alternator "B" terminal. In addition, the charging voltage of this ...
Components 1. OAD (Overrunning Alternator Decoupler) pulley2. Front housing3. Front bearing4. Stator5. Rotor 6. Rear bearing 7. Rear housing 8. Rectifier assembly 9. Regulator assembly 10. Rear c ...
Other information:
Hyundai Tucson (LM) 2010-2015 Owners Manual: Air intake control
The air intake control button is used to select the outside (fresh) air position or recirculated air position. To change the air intake control position, push the control button. Recirculated air position The indicator light on the button illuminates when the recirculated air position i ...
Hyundai Tucson (LM) 2010-2015 Service Manual: Specifications
Specifications Manual transaxle typeM6CF4Engine type Gasoline 2.0 GDIGear ratio1st3.7692nd2.0803rd1.3874th1.0795th0.8846th0.744Reverse3.077Final gear ratio1st ~ 6th4.533Reverse5.231 Tightening Torques ItemsN.mkgf.mlb-ftOil drain plug 58.9 ~ 78.56.0 ~ 8.043.4 ~ 57.8Oil filler plu ...
© 2010-2020 www.htmanual.net